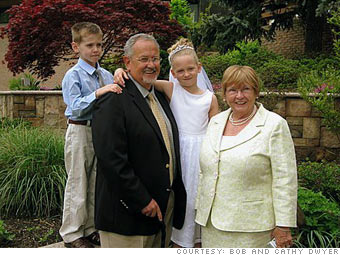 Bob and Cathy Dwyer with their grandchildren.
Name: Bob and Cathy Dwyer
Ages: 71 and 70
Why they love it: Weather and cost of living
After living and working in the New York City area all our lives, we moved here two years ago. We love it. It's dynamic and picturesque, and has great restaurants and arts.
We live 15 minutes from the heart of town and even closer to Furman University, which provides us with the stimulation of living in a college town. There are great outdoor activities in the Blue Ridge and Great Smoky Mountains only minutes away.
The two main factors that got us to move here were the weather and the cost of living. We had enough of the severe winters in New York, but we wanted four seasons. Here, it can be freezing in the morning and by noon it is 55 degrees and you can go out golfing.
And you can live for about half of what it costs in New York. A couple of years ago we were down here checking it out as a place to move when my wife asked me what I wanted for my birthday. I told her I wanted to see Tony Bennett.
So we went to the arts center, parked across the street -- cost me $4 -- went into the restaurant and had a nice dinner and then went to the show. We spent $150 total, about what I would have spent for parking in New York. I told her, "We're moving."
We bought a four bedroom, 3,000-square-foot single-level home for a fraction of what we sold our Westhampton, N.Y. place for. I took the money and invested it. There might even be some bucks left in it for the kids when I die.

NEXT: Mazatlan, Mexico