Mazatlan to South Dakota: Where these 8 couples are spending their golden years - and why they love it.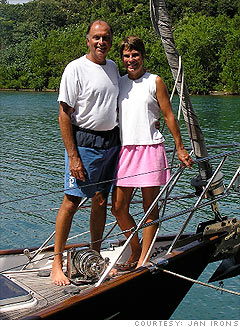 Jan and David Irons on their boat in the Bay Islands of Honduras. The boat has an interior space of 18 feet by six feet and is comfortable for two people.
Name: Jan and David Irons
Ages: 54 and 62
Why they love it: Live in a Corona commercial
My husband had one rule: Whatever we did when we retired, it had to be done in shorts. Perfect! We bought a sailboat and are living six months a year in the Caribbean and six months at our mortgage-free, two-bedroom lake home in Illinois.
We love the sailing lifestyle. As soon as it gets cool in the fall, we take off. It's great pulling into an anchorage near a remote village and getting to know another culture.
We have a Passport 37 called the Winterlude because it's for winter interludes. When we come home for the summer, we store the boat at a marina. It's now in Panama.
It's a surprisingly inexpensive lifestyle. We can sail all winter for what we would pay for a normal two week vacation in the Caribbean. You don't pay to drop your anchor unless you're staying at marina. We catch our own fish often and buy vegetables on the shore. Often, farmers will come by and sell you oranges, bananas and other fruit and fish right off their cayucas.
It doesn't take special expertise to do this. Even though David has been sailing since he was 16, and we met when I was learning to sail, we see a lot of people out there who just decided it's what they want to do. They take sailing classes and a Coast Guard course.
You can get a well-equipped boat like ours starting around $50,000. Ours has some special gears, a reverse-osmosis system for making our own water; solar panels and a wind generator for power; and a gas generator for when there's no sun or breeze.
One of our favorite places is the San Blas Islands off Panama. When my daughter visited, she said, "You live in a Corona commercial," because there are so many beautiful little white sand islands there with two or three little palm trees on them.
NEXT: Greenville, S.C.