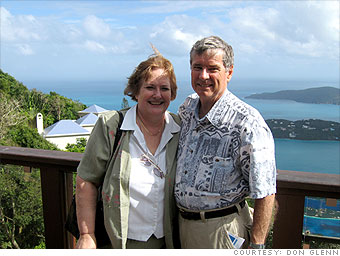 Don and Linda Glenn on vacation in the Caribbean.
Name: Don and Linda Glenn
Ages: 66 and 63
Why they love it: Grandchildren nearby
Uncle Sam brought us out to Nebraska. I was stationed here by the U.S. Air Force, and after 20 years I got a civilian job at a hospital in Omaha. When I was laid off from that three years ago, my wife, Linda, and I looked around to see where we would like to live.
We were in Bellevue, Neb., which is next to Papillion, a town that was rated one of Money magazine's Best Places to Live. We liked the town and we have grandchildren nearby. We don't much care for the weather, but we like the economy. So, we decided to stay put.
The unemployment rate in the Omaha area is low. I was able to get a couple of part-time accounting jobs, 20 hours a week. That gets me out and interacting with other people. I think that it's very important to have something to do, not just sit in the house watching TV.
With a pension from the Air Force and the hospital, we're comfortable financially. We live in a four-bedroom house with a 1,000-square-foot furnished basement. My son and his wife moved in, and my wife takes care of their kids while they work.
We watch our money. We don't dine out as much as we used to or go to fancy restaurants. We do a lot of charitable work with the Kiwanis Club.

NEXT: Sun City West, Ariz.