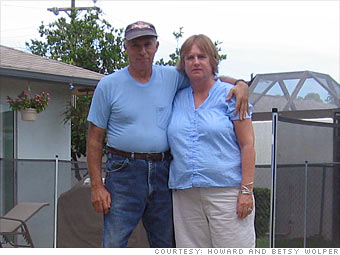 Howard and Betsy Wolper at their new home in Florida.
Name: Howard and Betsy Wolper
Ages: 63 and 54
Why they love it: Great beaches and low housing costs
We moved from southern New Hampshire a few months ago. It was Betsy's dream to come to Florida. For me, what's going to be nice is not shoveling 100 inches of snow every winter. I was anxious to get away from that.
My other motivation was to reduce my mortgage. We got a really good buy on the house: Half the price compared with up north -- and much less than we would have paid a few years ago. This area has been the foreclosure capital of the nation lately, so there are a lot of bargains.
We told our agent what were looking for, and we liked the first property we saw. It was a three bed, two bath with an in-ground pool listed for $140,000. We bid $142,000 because we wanted the house. But it only appraised for $130,000. I said, "I'm not paying more than the house appraised for," and we got it for $130,000.
The house is about 30 years old, which is what I wanted. It's already been assessed for the utilities, like the water plant, so there shouldn't be any surprise expenses like that. And this area had a big problem with Chinese wall board, which gives off hazardous and smelly gases. I knew the older house wouldn't have that.
There are lots of things to do around here. You've got shopping, plus the beach. The summer here has been hot -- 90 degrees and high humidity -- but that's not as hot as we expected. It's rainy season now, and it rains every afternoon for an hour. But you're in the air conditioning most of the time, so the heat and humidity is not a problem.

More galleries