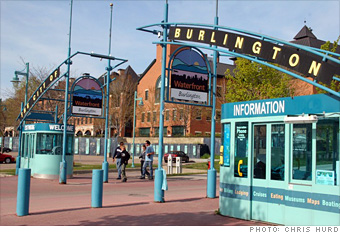 Foreclosure rate: One in 4,436 homes
Percent increase: 400%
Burlington, Vt., has seen a real reversal of fortune. The city went from having one of the country's lowest foreclosure rates in 2008 to posting the second-highest quarterly increase in the third quarter of 2009.
"From what I've seen, Vermont tends to lag the rest of the country in a lot of these economic indicators," said area realtor Christopher Hurd. "We were surviving in a bubble for a while, but it popped."
The condominium market has especially taken a beating, and vacation homes in the mountains feel like a dream of the past.
But Hurd, a realtor for 12 years, said downtown Burlington appears lively, and the myriad small business owners take a lot of pride and responsibility in their city. He believes future foreclosure risk is low, as major employers like the University of Vermont and the Fletcher Allen Health Care facility are "holding up pretty steadily."
And the location never hurts: The city was a contender for Money magazine's Best Place to Live this year.

NEXT: 3rd place: Lincoln, Neb.

Last updated October 30 2009: 12:24 PM ET
Source: RealtyTrac
Increase is between the second and third quarters of 2009.