Las Vegas always wins the title for worst foreclosure rate in the country. But these 5 cities have the fastest-growing foreclosure rates. And they're not the usual suspects.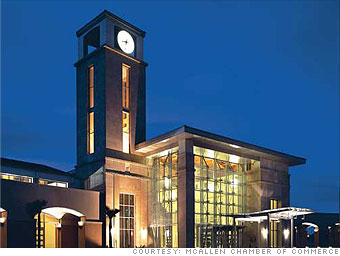 Foreclosure rate: One in 251 homes
Percent increase: 1,197%
The foreclosure plague rocked McAllen, Texas, during the third quarter. In fact, it showed the fastest growth rate of any city compared to the second quarter.
Located in one of the poorest sections of the country -- the Rio Grande Valley, five hours south of San Antonio -- it is a classic border town. It relies heavily on trade with Mexico, with 35% of its retail market derived from Mexican nationals coming to shop and dine.
Plus, the unemployment is high. The area's rate now stands at 11.4%, compared with Texas' overall 8.2%.
Still, until this quarter, it had counted a low foreclosure rate among its assets. In fact, that helped propel the city to No. 26 on CNNMoney's Best Places to Launch list in 2009.
Dick Henry, president of Greater McAllen Association of Realtors, said the area didn't start to feel the housing crunch until late 2008. The wave crested the city slowly through the first part of 2009, with July actually being a strong month. "But boy, August and September went straight to hell," Henry explained.
He worries, too, that things will get worse because most of the region's loans are ARMs.
"People get sucked into the lower money down, and then they can't afford their homes once rates are jacked up," Henry said. "I now see 110 pages of foreclosure listings per month, compared to 45 pages in the first quarter. I don't see that slowing down anytime soon."
NEXT: 2nd place: Burlington, Vt.
Last updated October 30 2009: 12:24 PM ET
Source: RealtyTrac
Increase is between the second and third quarters of 2009.