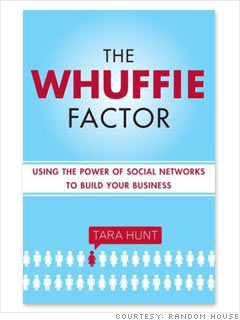 The Whuffie Factor: Using the Power of Social Networks to Build Your Business
By Tara Hunt
Crown Business, 320 pages, $25
"There really are only three ways to build a business and make money online," writes Tara Hunt. "Porn, luck and whuffie."
"Whuffie," a term coined by novelist Cory Doctorow, refers here to real-world social capital that wins trust and customers. So how do you become "whuffie-rich"? Stop talking and listen; be a generous member of the community you serve; "embrace the chaos" by not overplanning; create amazing experiences for clients.
This is yet another business book that tells us to upend conventional wisdom and then serves up some fairly conventional wisdom. Nonetheless, it's a clear, enthusiastic guide to community building online.

NEXT: Mind your business