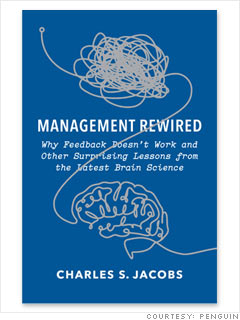 Management Rewired: Why Feedback Doesn't Work and Other Lessons from the Latest Brain Science
By Charles S. Jacobs
Portfolio, 224 pages, $25.95
Just how is neuroscience revolutionizing business? The short answer is that it isn't.
In fact, the takeaways from this idealistic work are hardly revolutionary. For example, reality is all in our heads. Money isn't the most powerful motivator. And emotions can be excellent guides to decision-making. Nothing new, right?
Still, the book is illuminating, thanks to the author's fluent style and wide learning, which he wears lightly and brings to bear usefully, if hyperbolically, on business.

More galleries