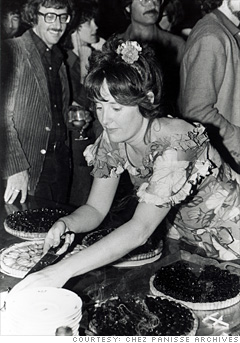 Waters, at her restaurant in 1975.
Chez Panisse opened in 1971. It lost $40,000 in the first three months.
"In no time I had 50 employees, and I didn't know how to manage any of them," Waters says. "We were open seven days a week from 7:30 a.m. to 2 a.m., serving breakfast, lunch and dinner. It was too much. We were hemorrhaging money. I had to lay off half of my staff, and we stopped serving breakfast and closed on Sundays."
An angel investor, cookware store owner Gen Opton, stepped in to pay the bills and help Waters learn to run a business. The restaurant began to stabilize -- and then, in 1975, a glowing review in Gourmet put Chez Panisse on the national radar.
"Suddenly people were coming to the restaurant, but for the wrong reason: They wanted to be seen here. It wasn't about the food anymore," Waters recalls. "The restaurant became so busy that my friends couldn't get in! It was moving away from what I had wanted Chez Panisse to be: a simple, homey place where people could eat wonderful food. Getting back to that took years of personnel changes and menu simplifications."

NEXT: Into the black