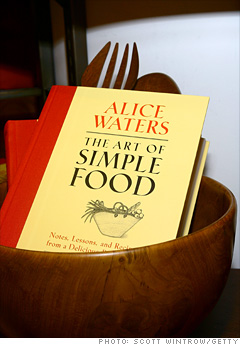 Those who haven't made it out to Berkeley can experience Waters' core culinary principles through her bestselling 2007 book,
The Art of Simple Food
.
"Learning about food and where it comes from has also always been important to me. It goes beyond the restaurant," she says. "I have a vision of what must happen for the good of the planet. I truly believe we need to turn our food system upside down and get back to the way food has traditionally been produced. It's about growing food locally, eating it in season, producing it without pesticides and preserving it for the winter months by canning."
Waters vision is global, but her main experimental ground for exploring it remains the neighborhood restaurant she's now managed for almost 40 years. "Running a restaurant is like painting the Golden Gate Bridge," she says. "As soon as you're done, you've got to start over again."

More galleries