Connecting diners and cooks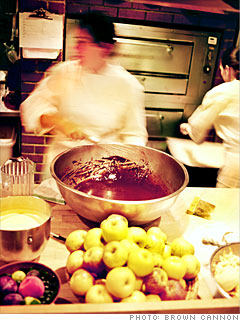 "I never tell the chefs what to cook. That's up to them. I'm here to taste," Waters says. "I love walking into the restaurant and being surprised."
Here, a pastry chef whips up a chocolate sauce. Chez Panisse is Mediterranean in spirit, but its seasonal menu incorporates dishes from around the world. Diners can peer into the restaurant's open kitchen and interact with the chefs.
"The people who eat here and the people who cook here need to be connected," Waters says. "That's why we have an open kitchen. Customers can walk into the kitchen and ask for seconds."

NEXT: Staying local