The city is a paradise for small businesses -- and food lovers.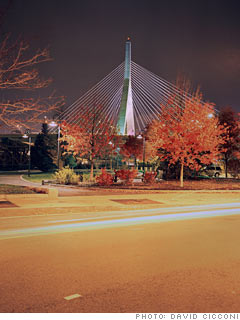 Boston by night: The city's Zakim Bridge
Fall is the best time to visit Boston, when unpredictable New England weather gives way to sunny, dry days that are ideal for exploring the city on foot. And while must-see attractions include the gleaming new Institute of Contemporary Art (where an exhibition by former political cartoonist and prominent Mexican artist Damin Ortega will be on display through January) and the Boston Celtics (who have won more championships than any other NBA team), there's something for everyone here.
NEXT: Caviar, then clothes