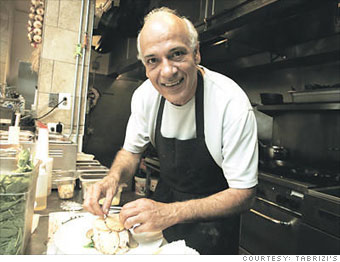 500 Harborview Drive
Currently: Tabrizi's
Past occupants: Lillies On The Harbor/Catalina Restaurant (2002-2007), South Harbor Tavern (1999-2001), J. Leonard's Waterside (1997-1998), Pier 500 (1990-1997)
The risks of entrepreneurship make Michael Tabrizi nervous every time he goes into business. But he was especially edgy when he decided in 2007 to open Tabrizi's, a Mediterranean and Middle Eastern restaurant, in Baltimore's upscale Harborview community.
The location offered 13,000 square feet of indoor space, plus another 6,000 square feet of patio space on the waterfront. It also housed the ghosts of restaurants past. In its first review of Tabrizi's, Baltimore City Paper cited the "long parade of restaurants to founder" in the "cursed location."
Chef Tabrizi, who owned another Baltimore restaurant in the 1990s, ultimately took the Harborview leap of faith because the previous failures seemed to stem from management mistakes.
"I saw that they either lacked the experience in owning a restaurant, or there were too many partners and they got into arguments," Tabrizi says.
Andy Freeman, director of business development for Harborview, agrees that Lillies on the Harbor -- and its predecessor, Catalina, an earlier venture by the same management team -- closed mainly because of inconsistent service and management. He adds that the restaurant did very little advertising to attract customers to Lillies' off-the-beaten-path location.
Lack of business wasn't the problem for all of the space's former tenants. South Harbor Tavern closed because the bar actually had too many customers. Happy hours at the waterfront location sometimes attracted crowds as big as 2,500. Harborview's developers preferred a quiet, residential atmosphere in the community, and South Harbor closed after the bar's lease ended, Freeman says.
Tabrizi is confident his restaurant can overcome the space's previous challenges. Loyal customers from his former restaurant have become regulars at Tabrizi's, and the business had a 20% increase in sales this year. -Sheena Harrison

NEXT: Des Moines