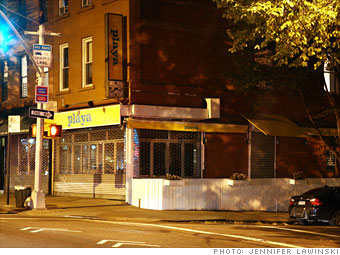 230 Fifth Avenue
Brooklyn, N.Y.
Currently: Playa and Cabana Bar
Past occupants: Lookout Hill Smokehouse (2008), Biscuit BBQ (2006 - 2008), Night & Day (2005-2006), Bibi's (2002-2003)
Here's a sign of how cursed Brooklyn's 230 Fifth Avenue is: Its current inhabitant died while we were reporting this piece.
RIP Playa: November 2008 - October 2009.
In the space of three years, two doomed barbecue joints, Biscuit BBQ and Lookout Hill Smokehouse -- which lasted a mere four months -- came and went before Spencer Rothschild took a stab at running a restaurant at 230 Fifth Avenue, the main drag in the borough's posh Park Slope neighborhood. Rothschild is an experienced New York restaurateur: His other ventures include Barrio, also in Brooklyn, and Calle Ocho in Manhattan's Upper West Side.
But his Latin fusion Playa and Cabana Bar lasted less than a year.
"We want to create a pan-Latin beach resort feeling," Rothschild told the Brooklyn Paper in November when the restaurant made its debut. "People will be able to get drinks at Cabana Bar, and then go over to Playa for seafood."
Area foodies openly wondered whether Rothschild would be able to break the curse. But it wasn't meant to be. Brooklyn blog Brownstoner quotes a source "close to the restaurant" who says that Playa closed after a dispute between its operating partners left the restaurant without a liquor license. In the cut-throat Brooklyn restaurant world, no booze means no profit.
Rothschild was mum on why Playa was shuttered, but his response to our inquires lends credence to Brownstoner's tipster. "With the recent closure of Playa, my schedule has been crazy," he said by e-mail. "I really do not have much to add to the few pieces that have been out there, just most importantly that I hope to re-open soon."
Whether Rothschild succeeds in resurrecting Playa or some other entrepreneur takes over the hard-luck space, expect bloggers to weigh in fast with Dead Pool bets on how fleeting the new venture will be. -Jennifer Lawinski

More galleries