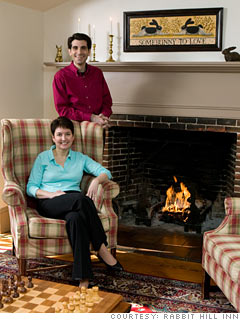 Innkeepers Leslie and Brian Mulcahy
When Leslie and Brian Mulcahy, innkeepers at Rabbit Hill Inn in Lower Waterford, Vt., first announced their "Pink Slip Giveaway Getaway" program in April, they had no idea how successful it would be. The giveaway targeted individuals who'd been unemployed for six months or more, offering a monthly drawing for a free two-night stay.
The couple sent out press releases to local media in the hopes of reaching the area unemployed. Then the national press began calling, including ABC World News with Charlie Gibson.
"In our 16 years of innkeeping, this has been the most satisfying effort we have ever done," Leslie Mulcahy says. "We know first hand about the stress and anxiety that unemployment brings."
She and her husband went through it in the early 1990s. Brian Mulcahy's layoff eventually led to the couple's new career as innkeepers. "Now it's our time to give back," Mulcahy says. They'll keep giving away free stays until January 2010.
The giveaway's been good for business, too. Not only have entries kept rolling in, but the inn's phones lit up with customers and Web site hits spiked. "It has created a level of excitement among our staff, our community and [our] repeat guest population, which also boosts reservations and referral numbers," Mulcahy says.

NEXT: Free shoes