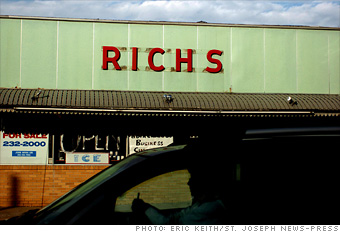 Rich's Food and Liquor
St. Joseph, Mo.
Opened: 1909
Closed: December 2009
What made the 100-year-old grocery store Rich's Food and Liquor so popular with St. Joseph residents was the charm of its owner, Ben Rich, according to his son Jeff.
"Dad had a gift to talk to people of all races, creeds and colors," said Jeff Rich of the World War II veteran, who took over the family business from his father-in-in 1948 and changed its name from the original, Mitchell Avenue Grocery. "People came in to buy groceries, but also to talk to dad."
When Ben Rich died at the age of 94 in May, his son, who co-owned the business with his sister Diane Lee, kept the business open for about six months to try to find a buyer.
But competition from stores like Wal-Mart made it difficult for the corner grocery to survive.
"We were a neighborhood convenience store without a gas pump," Rich said. "In the Midwest, the little stores can't compete with the big-box stores."
Rich, a retired federal employee, said he also felt the store wasn't really the same without the presence of his dad, who devoted much of his life to it. The store took on even more significance when Ben Rich's wife passed away suddenly in 1995. "It gave him something to do," Jeff Rich said.
Rich donated whatever canned goods and food items the store didn't sell to a local branch of Feeding America (formerly called America's Second Harvest), and donated other non-food items to the American Red Cross.
"It was what my parents would have wanted us to do," he said.

NEXT