A boat builder hits the road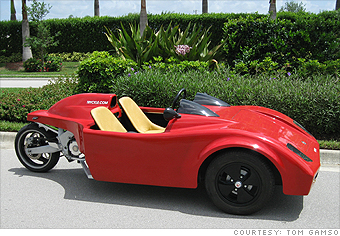 Tom Gamso's conversion turns motorcycles into Tryckles.
Tom Gamso didn't get into the ground transportation business until his yacht-building firm went south.
As early as 2007, Atlas Boat Works -- which mainly built fiberglass pleasure motorboats in its Cape Coral, Fla., factory -- began to suffer from the economic downturn. By 2008, Gamso's annual revenue had fallen to less than $1 million, from $1.6 million in 2004, when he had 10 employees. As fuel prices spiked, Gamso wondered if he could turn his expertise to dry-land transportation.
With a bit of research, Gamso found a sophisticated, readily available supply chain for parts and systems to make electric-powered vehicles. Although four-wheel vehicles were expensive to assemble, he found that three-wheel cars -- ideal for short commutes -- could be built economically.
So, factoring in Florida's large elderly communities and the state's level terrain and good weather, Gamso saw a window of opportunity to sell a stylish, battery-powered three-wheeler with a top speed of 50 mph and a 33-mile range in city traffic. The unit simply needs to be plugged in at night.
Gamso managed to build a working prototype for less than $20,000. In late 2008, his company released its first Tryckle (pronounced trickle). The three-wheeler sells for just $10,000, plus the cost of a donor bike (any registered motorcycle with a straight frame will do).
"There is nothing exotic about the Tryckle at all," says Gamso. "It's not nearly as sophisticated as many of the boats we've built. But if you live close to work and where you live is sunny, there's no reason not to ride one of these things."
Although at press time the company had sold exactly two production Tryckles, Gamso isn't discouraged. He gets a steady stream of e-mail from retirees in gated communities and businesses looking for a marketing platform, and he's currently developing a simple roof for the three-wheeler. For now, it's a great revenue stream to supplement his boat business.
"If I sell one or sell 100," he says, "it's still a home run."

NEXT: Many greenbacks for a green supercar