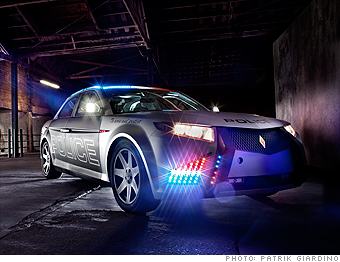 The E7 can go from zero to 60 mph in about six seconds.
Carbon Motors considers itself a law-enforcement firm rather than a car manufacturer.
"The similarities between us and the automotive industry end with four wheels and an engine," says Stacy Stephens, a former police officer who co-founded the Connersville, Ind.-based firm in 2003 to build high-tech police cars. "We are developing a tool for our law-enforcement first responders."
For decades, Detroit paid secondary vendors to turn traditional sedans, such as the Ford Crown Victoria, into police cruisers by adding sirens, computers that access police databases, backseat restraining systems and so on. Carbon Motors' fully functional prototype, the E7, is a reimagining of the retrofitted crime fighter.
To develop his deluxe cop car, Stephens surveyed more than 3,500 officers, information technology specialists and municipal fleet managers from 200 police departments. Their responses were surprisingly consistent: They wanted a tough, fuel-efficient car with easily replaceable parts and a computer system that could be integrated with their existing IT infrastructure. The officers also loved the "cop-car look," saying it helped them appear authoritative but not threatening.
Stephens integrated all those specs into a 300-hp vehicle that has a plastic body over an aluminum frame and can go from zero to 60 mph in roughly six seconds. As of October 2009, the Carbon Motors E7 existed only in the form of a working prototype touring law-enforcement agencies across the U.S.
Stephens claims 12,000 advance orders from a number of state and federal agencies and wants Carbon to be the dominant vendor in the $4 billion police-vehicle market. Still, Carbon Motors has its work cut out for it. The company has seen no benefits from federal stimulus spending. Worse, potential customers -- its only potential customers, in fact -- are cash-strapped local, state and federal law-enforcement agencies. Analysts say these agencies tend to buy in small numbers and stick to brands they know.
Stephens plans to outperform his competitors via Internet ordering, direct factory support and from-scratch customization. "If we built the E7 like a traditional automaker, it would never be profitable," he says. "That's why we did a purpose-built vehicle that ships directly to the customer."

NEXT: The game-changer