Many greenbacks for a green supercar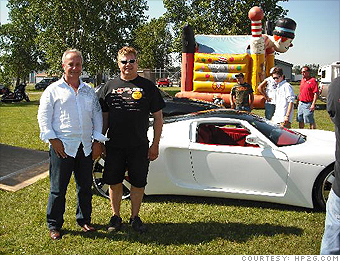 Peter Collorafi and Doug Pelmear pose with an HP2g car.
What would a luxe, high-performance car that's also fuel-efficient look like?
Peter Collorafi and Doug Pelmear think they have the answer. They call it the Verde.
Collorafi, president of Decatur, Ind., custom-car maker Revenge Designs, and Pelmear, founder of Napoleon, Ohio, performance-engine company HP2g, will debut the car at Detroit's North American International Auto Show in January 2010. They plan to ship it by next July.
The pair say the Verde (green in Italian, in honor of Collorafi's parents) will be an American-made supercar that gets 100 mpg from an engine that produces a hefty 400 hp with 500 foot-pounds of torque.
Those kinds of numbers would put the Verde in the same category as the Lamborghini Gallardo, which reaches a maximum speed of 201 mph, but with one crucial difference: The gas-hungry Gallardo gets a scant 12 miles per gallon on city streets (and just 20 on the highway).
The Verde won't be cheap -- it'll have a starting price of $180,000 -- but that's far more cost-effective than, say, a Lamborghini, which sells for a minimum of $250,000 and is expensive to maintain.
"That Gallardo's clutch will run $16,800 to repair," says Collorafi. "Ours will be done with domestic vendors and labor and run $3,200. That's the niche we want to fill."

NEXT: What Robocop would drive