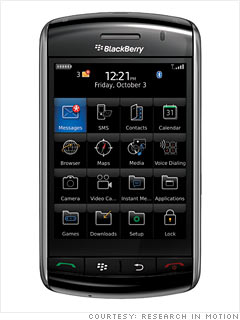 Sometimes, it seems like businesses these days couldn't survive without the BlackBerry.
In the early 90s, Research in Motion's co-CEOs Jim Balsillie and Mike Lazaridis saw e-mail's impact in offices and decided to take it to the mobile market. The company has not looked back since.
"We knew e-mail was going to be the foundation of business -- that it'd replace fax," Lazaridis
told Fortune in August
. But today, RIM is struggling with the competition.
Although revenue in RIM's most recent quarter were up 3% from the previous quarter to $3.53 billion, the growth is lower than projected. What's more, RIM estimates third quarter earnings could be as low as $3.6 billion -- about $300 million lower than market expectations.
Analysts say that the BlackBerry OS feels a bit antiquated, and it's not as user-friendly as others. But Balsillie and Lazaridis see potential for their own business in the growth of the smartphone industry: Since the iPhone's introduction in June 2007, BlackBerry quarterly sales have more than tripled, from $1.1 billion to $3.4 billion.
NEXT: The underdog: webOS