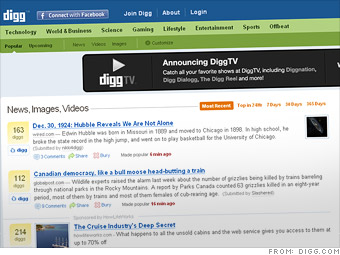 What it is:
Digg is a Web site that displays the Web's most popular content based on how many users share or "digg" an article or video.
Why Google should buy it:
Unlike Yahoo and Aol, Google does not produce its own content, but it makes money by driving people to others' Web sites. That matches up perfectly with Digg's business model, including obvious synergies with Google News. It also plans to launch a feature in 2010 that shows what users are "digging" in real time.
Why Google shouldn't buy it:
Digg isn't exactly the hottest Web property anymore. With Facebook and Twitter practically taking over the Internet, Digg lost heavy amounts of traffic in the past two months, tumbling 15% in November.
Will it happen?
Probably. Two months of traffic declines don't mean the end has come, and live digs could help revitalize the brand.
NEXT: Jumptap