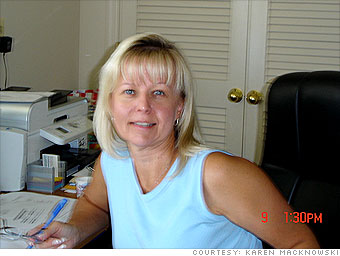 Karen Macknowski couldn't get a job stocking shelves at a dollar store.
Name: Karen Macknowski, 50
Location: Sayreville, N.J.
Unemployed since: May 2008
Benefits ended: April 2010
Karen Macknowski lost her job in May 2008 after 32 years with the same retailer. A little over a year later, her husband, Robert, found himself on the unemployment line.
She has applied to numerous jobs -- including one position stocking shelves at a dollar store for $8 an hour -- with no success. Her unemployment benefits were a safety net that alleviated some of her stress.
But now that the parents of two boys have lost her roughly $2,000 in monthly unemployment checks, they will have to tap into their 401(k) plans to keep a roof over their heads.
"I don't understand how the government thinks that the average American couple can survive without some assistance," she said. "We're between a rock and a hard place -- we're not old enough to retire, but companies are looking for younger people."

NEXT: Deciding which bills to pay