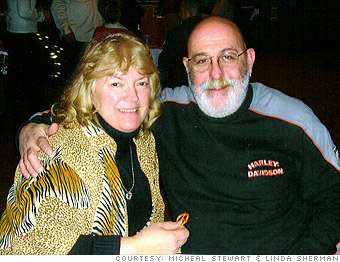 Micheal Stewart, with his fiancee, Linda Sherman, has to decide which bills to pay.
Name: Micheal Stewart, 55
Location: Flushing, Mich.
Unemployed since: September 2008
Benefits ended: February 2010
For Micheal Stewart, getting unemployment benefits meant being able to afford his monthly mortgage and keep the lights on.
Now that he's without that $1,550 a month, he and his fiancee, Linda Sherman, have some tough decisions ahead. Though she works several jobs, they don't have enough to make the May house payment and cover the other bills.
Stewart has been unable to find another position since being laid off from an auto-supply factory in September 2008. He sends out resumes every day and has even applied to fast food restaurants to no avail.
"I'd work at McDonald's if I could," said Stewart, who has had to borrow money from friends and family.
Though he's taking odd jobs such as painting and lawn mowing, it's just not enough. If he doesn't find employment soon, he'll let the bank foreclose on his home and the couple will live in trailer on friend's property.
"No matter what you do, you can't make ends meet," Sherman said.

NEXT: Can't pay her doctors