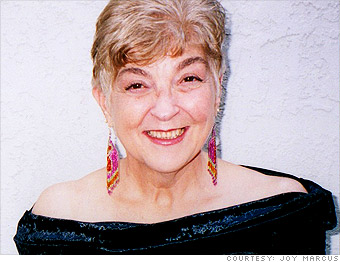 Joy Marcus can't pay her doctors bills now that her unemployment has run out.
Name: Joy Marcus, 68
Location: San Mateo, Calif.
Unemployed since: August 2007
Benefits ended: March 2010
Joy Marcus' oncologist won't get her usual $5 monthly payment anymore now that the former executive assistant has run out of unemployment benefits.
Without that $654 biweekly check, Marcus can't afford to pay her doctors or her credit cards. The breast cancer survivor and her husband, Stanhope Gould, can barely scrape by with their Social Security payments and his small pension.
"When I was getting unemployment, I slept a lot better," said Marcus, who lost her job in August 2007 and her benefits in March.
While they can still cover their rent and food bills, that's about all they can do. She's hoping to land a job as a Census worker, for which she recently started training, but a position is not guaranteed.
"Nothing on the horizon after that," she said. "Not a pretty picture."

More galleries