The first wave of the long-term jobless are now exhausting their benefits. CNNMoney.com looks at how seven people are getting by without this safety net.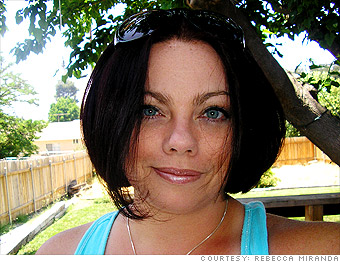 Rebecca Miranda is trying to start her own business to be able to care for her 2-year-old daughter.
Name: Rebecca Miranda, 32
Location: Beaumont, Calif.
Unemployed since: April 2008
Benefits ended: April 2010
Since Rebecca Miranda received her last unemployment check on April 1, the single mother sold her car and applied for food stamps in order to provide for her 2-year-old daughter.
An employment recruiter, Miranda has not been able to find work since losing her job two years ago. Everywhere she applies tells her she's overqualified or underqualified.
The $752 she received every other week in unemployment benefits paid for her share of a house she rents with her sister, food and clothing for Katelynn.
"Everything went to keeping us alive," said Miranda, whose longest previous stretch of unemployment was three months.
Now that she's exhausted her benefits, Miranda is looking to start her own business making candy. She borrowed the money to get her license from her boyfriend. Until the confectionary gets up and running, she can get by with the $2,000 she received from selling her car. After that, it will take a miracle, she said.
"Once June comes, that's it," Miranda said. "I'm done."
NEXT: Selling everything