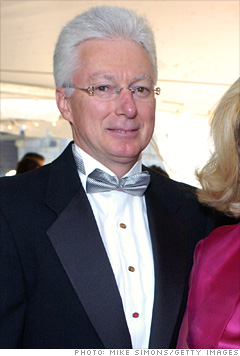 Company: Procter & Gamble
Cash compensation: $5.6 million
Stock and options: $17.9 million
P&G sat out last year's stock market rally, which is becoming a familiar theme: Lafley has raked in $71 million of compensation over three years, even as shares of the Cincinnati-based seller of Tide and Crest rose just 2%.
Lafley, who was named president and CEO in 2000, retired from the company in February 2010.

Source: Equilar Inc.

NEXT: William Weldon: $22.8 million

Last updated April 06 2010: 4:17 PM ET
Note: Total compensation includes actual salary received, discretionary and performance-based bonus payouts, the grant-date fair value of new stock and option awards and other compensation. If relevant, other compensation includes severance payments.
Equilar, an executive compensation research firm
, looked at 200 CEOs at the 199 largest companies (Motorola has co-CEOs) that filed their 2009 proxies as of March 26, 2010. All companies have revenue greater than $5.7 Billion. The list includes companies with fiscal year-ends spanning from May 31, 2009 to January 31, 2010.