These 20 corporate chiefs took home the most pay in 2009. Some of their companies were profitable, and others...not so much.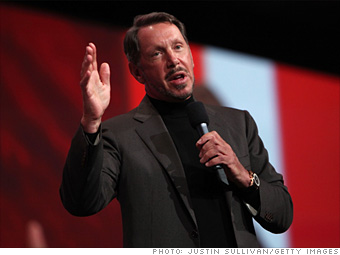 Company: Oracle
Cash compensation: $6.1 million
Stock and options: $78.4 million
It's been a good past few months for Oracle's brash CEO: Ellison won the America's Cup sailing event in February, and the just-finalized proxy filings showed he took home more pay than any other U.S. CEO in 2009.
The software giant also had a big year in 2009, snatching up Sun Microsystems when a Sun takeover by rival IBM seemed all but certain. Sales and profits rose modestly, and Oracle's stock, which rose 33.2% in 2009, outpaced most of its chief competitors.
Most of Ellison's pay came in the form of stock option awards, which he has made use of recently: In 2008, Ellison exercised a stunning 36 million options, banking $543 million.
Source:
Equilar Inc.
NEXT: Ray Elliott: $33.4 million
Last updated April 06 2010: 4:17 PM ET
Note: Total compensation includes actual salary received, discretionary and performance-based bonus payouts, the grant-date fair value of new stock and option awards and other compensation. If relevant, other compensation includes severance payments.
Equilar, an executive compensation research firm
, looked at 200 CEOs at the 199 largest companies (Motorola has co-CEOs) that filed their 2009 proxies as of March 26, 2010. All companies have revenue greater than $5.7 billion. The list includes companies with fiscal year-ends spanning from May 31, 2009 to January 31, 2010.