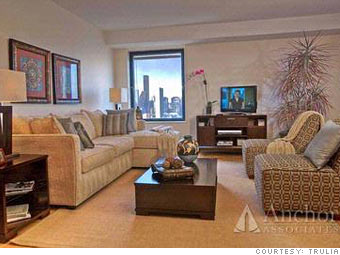 Average list price:
$1.38 million
Average annual rent:
$42,400
Price to rent ratio:
32.6
Manhattan is the most expensive large housing market in the nation with big Wall Street earners, corporate executives and other high-income professionals competing for the very limited offerings available.
That has driven up the price of a two-bedroom condo on the small, densely packed island to nearly $1.4 million, for less space than most starter homes have elsewhere. Although home prices are down about 30% from their peak, the high price-to-rent ratio has been buoyed by rent declines of more than 15%, according to Jonathan Miller of Miller Samuel, New York's premiere appraisal firm.
The ratio stands at 32.6, far above any other market in the nation. But if the national economy recovers and prosperity (and big bonuses) returns to Wall Street, the purchase market could heat up again and drive that ratio even higher.
NEXT: Arlington, Texas: Buy
Last updated June 14 2010: 2:22 PM ET