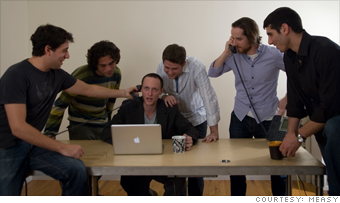 New York City
Funding: Friends and early adopters
Amount raised: $50,000
Date launched: October 2009
The founders of Measy.com, which helps users shop for gadgets, started fundraising in a fairly traditional manner: by tapping their networks. They piggybacked off the success of their previous project, nonprofit political engagement Web site Glassbooth, to raise about $100,000 toward their $150,000 goal. Angel investors in Florida committed to the final $50,000.
But in December 2008, the angel investors told Measy's founders that they'd lost money in the Madoff scheme and would have to renege on their offer.
To fill the gap, Measy used what they'd already raised to begin developing their product -- as a private, password-protected site. As word spread through the press and blogosphere, people began contacting the site to express interest. At that point, CEO Ian Manheimer says, Measy gave them the opportunity to invest -- and raised the final $50,000.
Investors received common shares in the company. A founder who'd recently passed the bar exam drew up bylaws, a shareholder's agreement and a subscription agreement, with help from a local lawyer who agreed to advise Measy for free.
Now open to all, Measy is in beta and run by a team of six. Manheimer is beginning to look for a Series A financing round to fund further technology development.

NEXT: The Extraordinaries

•

Lending site helps launch boutique