Want to tweet on the run or brush up on the trombone while traveling? These are 9 of the year's best iPhone apps, as chosen by the readers of review site 148apps.com.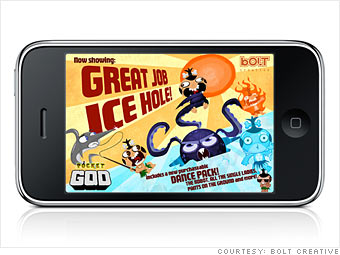 Developer: Bolt Creative
Cost: $0.99
Pocket God is a megalomaniac's dream: As the all-powerful ruler of a tropical island, this game lets you control everyone and everything living in your domain. The island's inhabitants, called Pygmies, are subject to your actions. You can give them weapons to fight off predators, or cause natural disasters including major hurricanes.
Developer Bolt Creative regularly adds updates, or "episodes," to expand the game with new features and levels. There are currently 30 themed expansions with names like "You Always Hurt the Ones You Lava" -- in which you can chuck the Pygmies into an active volcano. One of these updates added OpenFeint, a social network with chat rooms and scoreboards, so you can chat with your fellow omnipotent beings.
NEXT: Best productivity enhancer: Dropbox