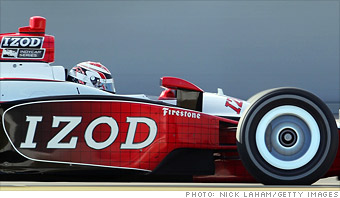 The title sponsor is a label reserved for one company, and since November 2009 that honor--and the hefty expenses that come with it--has belonged to Izod, the clothing label owned by Phillips-Van Heusen. This will be the second running of the race as part of the Izod IndyCar Series.
The title sponsor makes a
$5 million to $10 million
investment with IndyCar, but Mike Kelly, EVP of Marketing for PVH says that overall, taking into consideration other marketing and branding initiatives around the series (department store displays of Indy-logoed apparel, for example), Izod will spend close to
$30 million
on its IndyCar effort this year.
Unlike in the case of other sponsors, whose names or logos only appear on certain cars or drivers' fire suits, the Izod logo shows up on every single competitor's vehicle and uniform in the series. Specifically, the title sponsor gets prime real estate on the side pods, top position on the nose and tail, and on either wing, in front of the driver cockpit.
This year, Izod is also sponsoring a specific team and driver: Ryan Briscoe of Penske Racing. It means Briscoe will drive an Izod-branded car in the Indy 500. "That's very unique, for the series title sponsor to also be a primary sponsor of a team," says Dan Griffis, Sales VP for Chip Ganassi Racing.