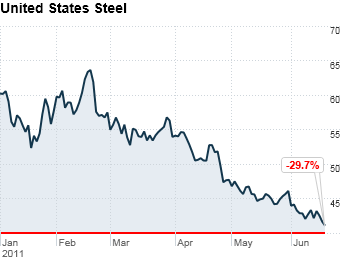 YTD performance: -30%
Market cap: $5.9 billion
When steel prices were surging at the start of the year, thanks to growing demand, investors were hoping that United States Steel's (X) bottom line and stock price would benefit. But alas, that didn't happen.
The nation's largest steelmaker disappointed investors with its ninth consecutive quarterly loss in April. The company's $86 million loss was nearly twice as deep as analysts were expecting.
U.S. Steel expects its performance to improve slightly during the second quarter, but investors and analysts are holding their breath, especially as steel prices pull back.