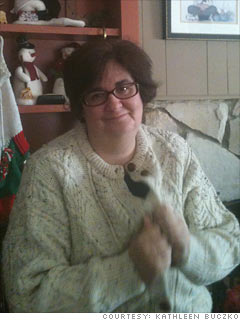 Name: Kathleen Buczko
Age: 49
Hometown: San Pedro, Calif.
Apparently, I complained at Thanksgiving about our roasting pan, but I was not expecting to receive a turkey cannon from my daughter. You use it to suspend the turkey in the oven and it keeps it moist. She claims it would work in a conventional oven, but it looked more camping-friendly and I've gone camping only once in my life.
We thought it would be better to take it back and get something different so we returned it on Dec. 26 and I got a sweater (pictured) -- a more traditional gift.
Maybe we'll learn to brine turkeys in the future -- I've heard that works well.