Does your business need highly educated workers? If so, check out these 10 states, which top the rankings for educational attainment.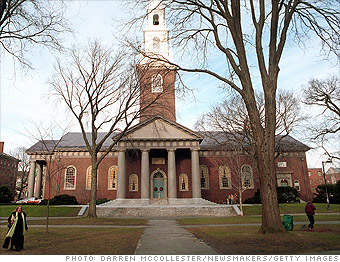 Harvard sits at the pinnacle of Massachusetts jam-packed higher-education field.
Residents with advanced degrees: 16% of population
Residents with some college education: 61.8%
The home of Harvard University, the ultimate symbol of academic excellence, is the most-educated state in the nation, according to analysis from the Kauffman Foundation, which crunched numbers on the percentage of each state's workforce with post-secondary education.
America's brainiest state has an extensive network of community and technical colleges. "We have an education system that works for jobs at all level of industry," says Joanne Goldstein, the state's secretary of labor. Massachusetts' two dominant industries are suitably brainy: health care and education.
The state's focus on higher learning comes from the top. Governor Deval Patrick "in his gut knows the value of education," Goldstein says. Patrick came from a poor neighborhood in Chicago, but won a scholarship to a prestigious boarding school. That helped propel him on to Harvard, Harvard Law, and eventually, the governorship.
NEXT: Maryland