How to retire early, save for a home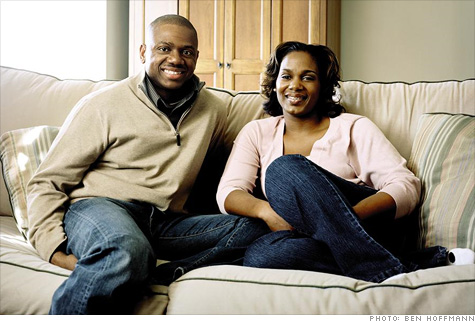 (Money Magazine) -- Like many households, Wener and Tieun Vieux have suffered a few financial jolts of late.
Wener, 36, a captain in the Army's Judge Advocate General's Corps, poured $23,000 of his pay into the stock market in 2008 -- just in time for the meltdown. What's more, he and Tieun, 31, a manager for a snack-food company, lost about $12,000 last year unloading the home they bought at Wener's last duty station.
Those setbacks haven't deterred the couple from their goals, which include retiring young (sometime in their mid- to late-fifties) and buying a big, comfortable home by 2017 (when Wener can retire from the Army with a guaranteed pension and they no longer have to relocate every three years).
But they'd like to know whether they're properly investing their nest egg as well as the $350 a month they're setting aside for a down payment. Their goals are in reach -- they think. Says Wener: "I'd like to figure out, 'Is this working?' "
The solution
1. Use an IRA for the home.
Their $14,000 house fund sits in taxable accounts. But Towson, Md., planner Phil Dyer says to use Roth IRAs. They can withdraw contributions, free of taxes or penalties, at any time. And five years after they first open a Roth, each can pull out up to $10,000 in earnings for a down payment tax free, assuming they qualify under IRS rules as first-time homebuyers.
2. Dial back risk.
About 80% of the house money is in stocks. Too aggressive, says Dyer. His advice: Switch to a 60%/40% stock/bond split. As the goal nears, go to mostly bonds. A year or two before buying, go to cash. They should also trim exposure to stocks in their nest egg.
3. Be tax-efficient.
In their taxable accounts, they should replace individual stocks with index funds. And use their 401(k)s to hold bonds to minimize taxable income.