The recession in your state
As the outlook worsens for local economies, we check in on your home state.
November 19, 2008: 4:24 AM ET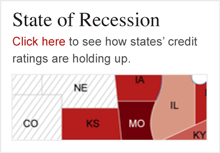 NEW YORK (Fortune) -- As you pile the family into the car and head home for Thanksgiving, you may want to give a little thought to how your home state is weathering the economic crisis.
April marked the first time since December 2001 that Moody's revised its outlook for the U.S. state-government sector to negative, and last month the ratings agency put out a new report predicting states will face harder times as the effects of the credit crisis and economic downturn continue to set in.
Already states are facing larger-than-normal budget shortfalls, which could mean, among other things, a reduction in services for residents and a greater risk of a credit rating downgrade. New York is looking at a whopping $47 billion deficit over the next four years. California is $3 billion in the hole this year. The National Conference of State Legislatures has even begun appealing for states to get their share of bailout money. (Even cash-strapped cities like Philadelphia and Phoenix are hoping for a piece of the pie.)
Yet, as bad as it looks, Moody's predicts most states will get through this period without a serious deterioration in their credit quality.
"States are stronger in and of themselves," said Edith Behr, vice president and senior credit officer at Moody's. "It has everything to do with being able to reduce expenditures and increase revenues."
These tools, like raising taxes or cutting spending, are why states generally have higher ratings than corporations. No states' General Obligation Bonds rank below A1, which is investment grade and only four notches below the triple-A "gilt edged" ranking.
The fact that states can't declare bankruptcy also supports their relatively strong ratings. That's one key reason why states have a higher median rating than cities, which can file for bankruptcy protection (as Vallejo, Calif., voted to do in May). What's good for states when it comes to easing their financial woes can also end up meaning more hardship for their cities as states push expenditures down to the local level.
Even with these advantages, Moody's has six states on negative outlook - Florida, Kentucky, Nevada, Ohio, Rhode Island, and Wisconsin. Still, that's below the 13 states that were on the negative outlook at the end of 2001, after the dot.com bust and the 9/11 terrorists attacks. This time around, Moody's says many states are better prepared with rainy day funds thanks to record revenue growth in recent years.
Even so, states have plenty to worry about. Budget gaps are widening and there aren't a lot of formal plans yet for filling the shortfall. The weakening economy is translating into a decline in jobs which, in turn, means less corporate and personal income taxes. Adding to the distress: consumers are spending less so sales tax revenues, which Moody's says accounts for about one-third of state general fund revenue, are falling.
States also face obstacles specific to their economies. Florida, for example, is hurting from the housing bust. Ohio is challenged by a downturn in manufacturing and concerns that tax reductions may weaken the state. Heavy exposure to the financial services sector is hitting states like New York, New Jersey, and Connecticut especially hard. Rhode Island is also reeling from a continuing decline in manufacturing jobs - its 8.8% unemployment rate as of September is the country's highest, according to the Bureau of Labor Statistics.
Not all states are in bad shape. Nine boast triple-A ratings, including Vermont and Delaware, which have healthy financial reserves and a history of strong management. Expect states that depend on natural resource industries, like Alaska and Texas, to also fare better, Moody's says. But those states bolstered by large reserves aren't in the clear, Behr says. They could see some added pressure as the price of oil and gas drops.
Even some of the lowest-rated states, like Louisiana with its A1 grade, have something to be thankful for over the holidays when it comes to propping up their bond ratings. On the Bayou there's a bright side with almost no exposure to financial services, a dose of federal funding in the aftermath of Hurricane Katrina, and plenty of oil reserves.