Stimulus: Senate's housing hopes
Lower mortgage rates, a foreclosure moratorium and more attractive tax credits to spur home buying are among possible amendments to recovery bill.
Map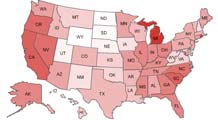 NEW YORK (CNNMoney.com) -- As the economic stimulus package moves to the Senate, the drumbeat is growing louder for new provisions that directly address the housing crisis.
Key senators from both parties said they will push for measures intended to spur sales and help homeowners at risk of foreclosure.
"We need to go right at the housing problem. That's what started all of this," Senate minority leader Mitch McConnell, R-Ky., told CNN.
The Senate floor debate is set to begin on Monday. Here are three ideas likely to show up in amendments:
Create a 4% mortgage: Senate Republicans are likely to introduce a provision that would encourage lenders to offer a 30-year fixed rate mortgage at 4% for a limited period of time. The loans would only be available to credit-worthy home buyers and homeowners seeking to refinance.
The government would guarantee the loan for a number of years, an aide to McConnell told CNNMoney.com.
Senate Republican Conference Chairman Lamar Alexander, R-Tenn., said on the Senate floor Friday that the measure could involve not only a government guarantee but a subsidy as well.
"If today's prevailing rate were 5.2 or 5.3 percent ... the government would make up the difference."
The cost of such a provision hasn't been determined yet, but the aide said Senate Republicans would seek to structure the proposal in a fiscally responsible way, without specifying exactly what that meant.
Offering government-backed low-rate mortgages "could be very popular politically as it tries to fix the banks by fixing consumers," financial services analyst Jaret Seiberg of the Stanford Group wrote in a research note.
But using government funds to force rates lower "could be very expensive," Seiberg said.
And as mortgage rates rise, which they have in recent weeks, such a proposal could grow even more expensive.
Expand home buyer credit: Senate Budget Committee Chairman Kent Conrad, D-N.D., said last week he would propose an expansion of a temporary $7,500 first-time home buyer credit so that it applies to all purchases of primary residences.
Some Republican senators have called for an increase in the credit to $15,000.
On "Face the Nation," Sen. Charles Schumer, D-N.Y., said Sunday that lawmakers "can do more for housing." The proposal to increase the home buyer credit to $15,000 and make it available to all home buyers is "something that we look favorably upon," he said.
The Senate recovery package as it stands now removes the requirement under current law that the credit be repaid by buyers over time, assuming they don't sell their home for three years after claiming the credit.
The credit phases out for individuals making more than $75,000 ($150,000 for joint filers).
Hold off on foreclosures: Senate Banking Committee Chairman Christopher Dodd, D-Conn., told reporters last week that he would like a provision in the stimulus package that would impose a 90-day moratorium on foreclosures. Dodd may consider other housing measures as well.
Postponing a foreclosure for three months might allow some troubled borrowers to keep their homes by buying them time to work out a new loan agreement with their mortgage servicer.
Obama housing proposals on deck
Advocacy in the Senate for more housing measures in the stimulus bill comes while President Obama is expected to release a comprehensive plan to fix the financial system within the next two weeks.
Obama has been promising for the past month that he would soon propose a foreclosure prevention program, and many believe that could be part of a plan he announces in the coming week. Indeed, he said Saturday that his plan will include a proposal to lower mortgage costs.
Last month, Obama's economic team promised lawmakers they would use $50 billion to $100 billion of the remaining money from the Troubled Asset Relief Program to prevent foreclosures.
Whether the housing measures proposed by Republicans on the Senate floor are intended to be in addition to Obama's proposals or as replacements isn't clear yet.
One of the ideas likely to influence Obama's plan is a loan modification program put forth by FDIC Chairman Sheila Bair that has garnered support from lawmakers. That plan would require that lenders reduce housing payments for delinquent borrowers to 31% of gross monthly income.
Lenders could achieve that by lowering mortgage rates to as low as 3% for five years, before increasing at an annual rate of 1 percentage point until they hit the prevailing market rate. Loan terms could be extended as long as 40 years.
In exchange, Bair proposed the government would share up to 50% of the losses if a borrower who gets a modified loan ends up defaulting anyway. And it would help foot some of the servicers' loan modification costs.

Features

These Fortune 100 employers have at least 350 openings each. What are they looking for in a new hire? More

It would be the world's second-biggest economy. See how big companies' sales stack up against GDP over the past decade. More