Big push for smaller stimulus
Bipartisan group of senators argues for an economic recovery strategy that would shave billions from Democrats' plan.
Map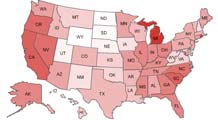 NEW YORK (CNNMoney.com) -- Tens of billions smaller and more precisely targeted.
That's the kind of economic recovery package a bipartisan group of moderate senators has been trying to craft for the Senate's consideration.
Until late Thursday night, the chamber debated amendments to a nearly $900 billion stimulus bill. Lawmakers generally agreed that stimulus is required but nevertheless Republicans and some Democrats questioned the bill's mix of measures and its size.
But it was unclear when -- or how -- their standoff with Democratic leaders trying to expedite a vote would end. The Senate is set to resume deliberations on Friday morning.
Sen. Evan Bayh, D-Ind., said earlier on Thursday there was a "backbone" to a deal among members of the bipartisan group, but that the details were still being worked out between the 12 Democrats and five Republicans at the meeting.
After the group's second meeting Thursday afternoon, senators sounded less optimistic, noting how difficult it is to find the right balance between cutting some programs, and adding spending on infrastructure.
Sen. Susan Collins, R-Maine, who is leading the negotiations along with Sen. Ben Nelson, D-Neb., told CNN that she originally didn't want a package larger than $650 billion but that President Obama, who met with her and Nelson on Wednesday, convinced her of the need for a larger bill.
But Collins also said she could not support a bill as large as the $819.5 billion package passed by the House last week.
"We don't want a package that is too small because that will end up just wasting money. On the other hand, we're very leery of having an enormous package that would not be necessary and would just boost the federal deficit," Collins told CNN as Nelson nodded in agreement.
A spokesman for Collins told CNNMoney.com on Wednesday that ideally the senator would like a package with funding for transportation and environmental infrastructure, energy efficiency, job training for the unemployed, state fiscal relief, education, housing, and tax incentives for small businesses and low- and middle-income families.
The group's package is expected to trim tens of billions of dollars in provisions from the nearly $900 billion Senate bill being debated this week.
The excised provisions are likely to fall into the category of what Republicans have classified as "wasteful" spending or earmarks; or what lawmakers on both sides of the aisle have identified as worthwhile endeavors but not necessarily stimulating enough in the foreseeable future to justify bypassing normal legislative consideration.
"Whatever you have in there ... you want to be as robust a stimulus as you can have it so that it's not just a spending bill," Nelson said.
Sources told CNN that Obama suggested in meetings Wednesday that he would accept only minor changes to his tax cuts, but was open to pulling more of the controversial spending projects out of the bill.
The bipartisan group's proposed substitution package - if they can agree on one - is not the only substitution that will be considered by the Senate, but it's likely to influence the final package the Senate votes on.
Democrats have said they want to get a package to the president that he can sign into law by Presidents Day, Feb. 16. After the Senate votes on its version of stimulus, the Senate and House will have to reconcile the differences between their two bills.
President Obama is scheduled to hold a news conference Monday evening at 8 p.m. It will be part of his ongoing efforts to convince lawmakers and the public that the economic recovery package is needed immediately and that the framework laid out in the Democrats' bills in the House and Senate will offer near-term stimulus and long-term growth.
In a speech to Democrats Thursday night, Obama reiterated why he felt Congress needed to move quickly. "I'd love to be leisurely about this," he said, but noted that economists say that the country will fall $2 trillion short of its potential output over the next two years.
"The reason this has to be big is to fill some of that lost demand," Obama said.
- CNN's Dana Bash, Ed Henry and Lisa Desjardins contributed to this report.

Features

These Fortune 100 employers have at least 350 openings each. What are they looking for in a new hire? More

It would be the world's second-biggest economy. See how big companies' sales stack up against GDP over the past decade. More