States to Congress: Send money fast
Governors and mayors nationwide are hungry for billions from the economic rescue plan to create jobs and fill budget gaps.
Map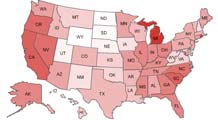 NEW YORK (CNNMoney.com) -- Massachusetts state workers and retirees face higher deductibles and co-pays on their health insurance.
Many welfare recipients in Tennessee may lose their state-funded child care.
And kids in Riverside, Calif., will likely have to continue walking to school on the roadside instead of on sidewalks.
These are but a few of the programs and projects that the weakening recession has put on the chopping block as state and municipal officials wrestle with widening budget gaps.
At least 46 states are facing shortfalls in their budgets as tax revenues dry up. They are making harsh cuts to social services, putting infrastructure projects on hold and laying off government employees.
That's why governors and mayors are pressing federal lawmakers to pass the stimulus package, which could send billions of dollars into their coffers. The funds could help reverse planned budget cuts and revive their economies by putting people back to work on public construction projects.
States could receive as much as two-thirds of the stimulus package funds, which top $900 billion in the current Senate version. The majority of the money is being targeted for programs such as education, Medicaid, infrastructure and unemployment. But governors will also get billions to help close their budget gaps.
"It allows them the flexibility to fund their priorities," said David Quam, director of federal relations for the National Governors Association. "The money is not going to fill all the gaps, but the states are willing to make the changes they need to make for the long run."
The Senate was racing to vote on the package by Friday, and Congress hopes to send a reconciled bill to the president next week.
Reversing reductions
How hard is it to balance a state budget these days? Ask Gov. Phil Bredesen of Tennessee.
Bredesen is looking at a $900 million gap for 2009-2010. He has asked officials in every department except K-12 education to prepare for two scenarios -- a 9% reduction or a 15% cut if federal funds do not come through.
That would force 2,300 layoffs, cuts in Medicaid and child care services and a nearly $182 million reduction from the higher education budget.
But if the state gets the $4.3 billion it expects, it won't have to take many of these draconian measures, Bredesen said. There wouldn't have to be any layoffs and the state could actually put more money toward child care for welfare recipients. And since the governor could use nearly $485 million as he sees fit, the budget gap would shrink to a more manageable $200 million to $300 million.
"The stimulus money has taken the sting out," Bredesen told CNNMoney.com.
Meanwhile, in Massachusetts, where billion-dollar budget gaps keep opening every few months as tax revenues shrivel, state officials are hoping to get an estimated $1.5 billion in Medicaid funds to reverse planned cuts in the state health insurance program, which would have been trimmed by $45 million, and the state's Medicaid services, which would have been slashed by $560 million.
The state also had frozen education funding at this year's levels, prompting some school districts to say they'd have to lay off teachers and increase class sizes. With the federal money targeted for education, some school districts may not have to take this step, said Cyndi Roy, spokeswoman for the Gov. Deval Patrick's budget office.
Massachusetts is also hoping to receive hundreds of millions of dollars to fund highway and bridge construction, school renovation and broadband expansion, creating thousands of jobs. The state could get $750 million just for highway and transit projects, by some outside estimates.
"These funds will help protect the safety net, stimulate the economy and put people back to work," said Roy.
Plugging the gap
Some states haven't mapped out where the federal funds would go, but they are devising their budgets assuming a certain level of help. Officials in Arizona, which has been hit hard by the foreclosure crisis, are wrestling with a $1.6 billion budget gap. They are plugging it, in part, by assuming they will receive $500 million from the stimulus package.
Once they get a final number, officials will determine what still needs to be done to balance the budget.
"We're waiting to see what the President and Congress decide," said Paul Senseman, a deputy chief of staff for Gov. Jan Brewer.
Though most of the rescue money is going to the states, some will trickle down to the cities. Many mayors, who converged on Washington this week to urge lawmakers to pass the stimulus bill, already know how they can use the funds.
The mayors have put together a "Ready to Go" report that details 18,750 local infrastructure projects in 779 cities that can be started as soon as funding is received. The projects, which represent an investment of $150 billion, would create 1.6 million jobs in 2009 and 2010.
The states can use their infrastructure allotments to fund these projects. Plus, the cities will receive more money from community development block grants contained in the package.
In Riverside, Calif., Mayor Ron Loveridge said much of the stimulus money he receives will go to the city's water mains, roads, community centers and sidewalks. Not only will it provide long-term improvements, it will help reduce the city's unemployment rate, now at 10.5%, far above the nation's 7.2% level.
And once people start working again, they can start shopping again. That will help the city close its $14 million budget gap by increasing sales tax revenues.
"It stimulates the economy by providing jobs," Loveridge said.

Features

These Fortune 100 employers have at least 350 openings each. What are they looking for in a new hire? More

It would be the world's second-biggest economy. See how big companies' sales stack up against GDP over the past decade. More