Obama's foreclosure fix on the way
The president is set Wednesday to unveil plans to stem foreclosures and stabilize housing. Loan modifications and help for those near default are expected.
Ali Velshi & the CNN Money Team take on the dismal February jobs report. How will the job market recover?
Friday at 11 p.m. ET
Map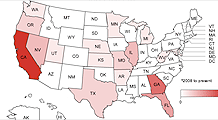 NEW YORK (CNNMoney.com) -- Obama administration officials are hammering out the details of a $50 billion foreclosure prevention program that the president is set to unveil Wednesday in Arizona, sources said.
Details remain scarce, but officials are looking to help homeowners who are in danger of defaulting on their mortgages, as well as those already behind, according to sources close to the discussions. Until now, most government and industry efforts have centered only on the delinquent.
The administration is under intense pressure to find a solution to the housing crisis, which many experts say is crucial to reviving the overall economy. More than a million homes are already in foreclosure, and more than 2 million more are expected to succumb this year. Obama has long promised that his fix will go beyond the steps taken by his predecessor.
The multipart plan will for the first time commit government money to spur loan modifications. One likely component will be interest-rate subsidies for at-risk borrowers, with the government matching the servicer's rate reduction. Borrowers would have to take an affordability test to see whether they could handle the monthly payment on the reworked loan.
"Our focus will be on using the full resources of the government to help bring down mortgage payments and to reduce mortgage interest rates," Treasury Secretary Tim Geithner said last week as he announced the administration's financial stability plan.
The administration is also expected to ramp up loan modifications of borrowers in default. These modifications would lower monthly payments to more affordable terms - often 31% to 38% of gross monthly income - through reducing interest rates or lengthening the loan's term.
Several mortgage servicers, as well as mortgage financiers Fannie Mae and Freddie Mac, already have implemented loan modification programs with mixed success. The administration would likely require all banks receiving bailout money to implement such plans.
While the administration has not said much so far, industry executives and housing advocates are hoping Wednesday's announcement will contain a detailed and comprehensive fix for the foreclosure crisis. Geithner came under heavy fire last week for unveiling few specifics in the long-awaited financial stability plan, the successor to the Bush administration's $700 billion financial industry bailout.
Beyond bailout
Whatever Obama unveils Wednesday, efforts by the administration and Congress will go beyond the financial industry bailout.
On deck is controversial legislation to allow bankruptcy judges to modify loans on primary residences. The financial industry is staunchly opposed to this measure, but administration officials told them last week to expect it to happen this year.
Also, lawmakers are working to extend and amend measures enacted last year to help troubled borrowers.
The $787 billion stimulus package set to be signed into law Tuesday increases the loan limits for mortgages insured under the Federal Housing Administration, as well as those that can be bought by Fannie Mae and Freddie Mac, to as much as $729,500, up from $625,500. The higher limit, which was in effect last year, is designed to help those with larger mortgages refinance into more affordable loans and to make it easier for people to purchase homes in high-cost areas.
To spur home sales, first-time buyers will get a tax credit worth up to $8,000 on their 2008 or 2009 taxes, under the stimulus package. The credit starts to phase out for buyers who make more than $75,000 for singles or $150,000 for couples. This measure, which builds on a tax credit enacted last year, is intended to help soak up the inventory on the market, which is also depressing home values.
Congressional Democrats are also looking to fix the faltering Hope for Homeowners program, which was designed to refinance struggling borrowers into government-backed FHA loans. Few borrowers have signed up, in part because of its high fees. Lawmakers hope to make it more attractive by easing the terms and providing incentives for servicers to participate.
The House Financial Services Committee recently passed legislation taking these steps. Such a revamp was in the Senate version of the stimulus package but didn't make it into the final version.
Unemployment still a concern
A major problem confronting the Obama administration, however, is what to do with the rising number of foreclosures stemming from unemployment. Loan modifications don't work for these borrowers.
The only viable solution for these delinquent homeowners is to get the economy moving again so they can get jobs and catch up on their bills, experts said.
Whatever the administration chooses to do, it should implement it quickly, experts said.
Several banks, including Citigroup (C, Fortune 500) and JPMorgan Chase (JPM, Fortune 500), have agreed to put a moratorium on foreclosures until the president unveils his plan, after coming under pressure from Rep. Barney Frank, D-Mass. Fannie Mae (FNM, Fortune 500) and Freddie Mac (FRE, Fortune 500) are also holding off on foreclosures in the pool of mortgages it owns.
Still, more than 2.4 million homes are expected to succumb to foreclosure this year with as many as 9 million falling into foreclosure over the next four years, according to some estimates.
"Massive foreclosures and their contagion effects formed the epicenter of the financial crisis," said John Taylor, head of the National Community Reinvestment Coalition, who was among those meeting with the administration last week. "We need a plan that meaningfully reduces loan costs through interest rate cuts and principal loan reductions."
"The longer Treasury delays announcing substantive measures to bring financial stability to working families and communities, the longer the U.S. financial system and overall economy will suffer," he said.

Features

These Fortune 100 employers have at least 350 openings each. What are they looking for in a new hire? More

It would be the world's second-biggest economy. See how big companies' sales stack up against GDP over the past decade. More