Job fairs: Long lines and a ray of hope
More than 3,700 people descended upon 92 employers at a New York job fair. Some were happy just to talk to a recruiter face-to-face.
Map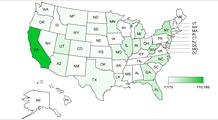 Ali Velshi & the CNN Money Team take on the dismal February jobs report. How will the job market recover?
Friday at 11 p.m. ET
NEW YORK (CNNMoney.com) -- Howard La waited 90 minutes on line for the chance to spend three minutes with a recruiter from Charles Schwab.
La, who lost his human resources job at Wall Street firm Goldman Sachs in November, had prepared his spiel. The Hoboken, N.J., resident told the recruiter how he could help re-evaluate the brokerage's call centers to be more efficient. He walked away upbeat, with the promise that his resume would be reviewed.
"It was worth the hour-and-a-half wait to speak with him," said La, 26. "He said he'll pass my resume to his manager and he sounded genuine."
La was among the 3,700 people who packed a midtown Manhattan hotel ballroom Thursday for a chance to meet with representatives from more than 90 companies at a job fair put on by Monster.com. The widespread downturn in the economy was evident as people of all ages and collars crowded around company booths, listened to job search seminars and networked with each other.
With the nation's unemployment rate climbing to 8.1% Friday, the jobless are flocking to career fairs in hopes of finding work or, at least, putting their resumes before company recruiters. Careerbuilder.com, for instance, is seeing attendance spike by 25% to 35% at its events, a spokeswoman said. And it's seeing more veteran workers searching for positions. Now, 50% to 60% of job seekers at its fairs have at least a decade of experience. Last year, that number was 40%.
At the same time, some employers -- saying they simply have no jobs -- are shying away from career fairs. Certain sectors now dominate the events since they are still hiring. At Thursday's Monster fair, for instance, more than a dozen hospitals and health-related companies set up shop. Careerbuilder reports that more educational institutions are recruiting at its events.
"If they are attending, they want to fill positions," said Jennifer Grasz, a spokeswoman for Careerbuilder.com.
Ready recruiters: Madelyn Hilbert came to the Monster fair with nearly 500 openings -- ranging from food service to medical technicians to occupational therapists -- at the University of Medicine and Dentistry of New Jersey. Within three hours, she had collected more than 100 resumes from lawyers, administrators, nurses and others.
"There have been a lot of great fits," said Hilbert, pointing to one Brooklyn social worker's resume. "This is going to help fill our hard-to-fill positions that (we can't fill) through online submissions."
Other companies had only a handful of positions or were building up their bench for when the economy turns around, though the fair's organizers said the employers had a total of 1,000 jobs available. For instance, Tek Systems, a technology staffing firm, had only 18 open listings but was looking to gather resumes for the future.
It's unlikely that someone attending a career fair will be offered a job on the spot. The main reason to go is to meet recruiters face-to-face, rather than just blindly email your resume to a corporate HR email address, organizers said.
"Today is about making connections," said Eric Winegardner, vice president at Monster.
Applicants can also learn more about the job market and what companies are looking for, said Peter Cappelli, director of the Center for Human Resources at the University of Pennsylvania's Wharton School.
"People should expect information, but they aren't going to get a job," he said.
Hopeful applicants: Attendees interviewed at the Monster fair were realistic in their expectations. Many were just eager to meet with real live human beings at companies and get the chance to make an impression, rather than just clicking "submit' on an impersonal online posting.
Angela Corso, a legal secretary for more than 20 years until she was laid off in August, has found the job search very frustrating. Though she has applied to law firms and has sent her resume to staffing agencies, she hasn't gotten more than a few interviews.
But she made contacts at the Monster fair that she thought were promising. Corso spoke to several legal staffing agencies and one recruiter said she'd call the Garden City, N.Y., resident in for an interview. While she was waiting to get into the event, she gave her resume to someone she met who has cousins at law firms.
"This is my first chance at networking," said Corso, 56, who had never been to job fair before. "I think it helped, at least I hope that it has."
For go-getters like James Brozowski, the job fair was a chance to get recruiters' personal business cards, which he succeeded in doing with all 10 people he met. Brozowski, who was a project coordinator at Pfizer until five months ago, was especially pleased to meet one staffing agency recruiter he had spoken with on the phone earlier in the week. When he introduced himself at the booth, she said she recognized his name.
"It's great to put a face with a name," said Brozowski, a New York City resident. "I feel 100% better."
Got a question about jobs or unemployment? We want to hear from you. Send us an email and attach a photo and your question could be answered in an upcoming story on CNNMoney.com.
Have you found a job recently? We want to hear from you. Send us an email and attach a photo. Tell us where you got hired and how you landed the job and you could be profiled in an upcoming story on CNNMoney.com.

Features

These Fortune 100 employers have at least 350 openings each. What are they looking for in a new hire? More

It would be the world's second-biggest economy. See how big companies' sales stack up against GDP over the past decade. More