Bailout watchdogs: We want more info
Review panels of $700 billion bailout tell Congress that Treasury needs to do a better job of accounting where bailout funds went and what they are used for.
Tracking the bailout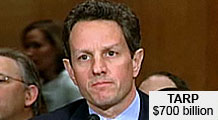 WASHINGTON, D.C. (CNNMoney.com) -- The officials charged with overseeing the $700 billion financial bailout told lawmakers Tuesday that the Treasury Department must do more to ensure that taxpayer dollars are properly spent and that the public is kept in the loop.
The officials were particularly angered about a lack of accounting for the sprawling program, complaining that Treasury didn't make any effort to monitor money that went to the 364 banks its has invested in, despite requests for information by oversight panels.
"Either you get Treasury to get some religion on this point and get some standards ... or Congress [will be] forced to step in," said Harvard Law professor Elizabeth Warren, chairman of the Congressional Oversight Panel, at a Senate Banking Committee hearing.
The office of Inspector General for the TARP program, one of the oversight groups, did its own survey of banks that received money, and every bank that got money responded.
Neil Barofsky, special inspector general, said that some banks "co-mingled" their bailout money and couldn't break out exactly what it was used for. But other banks kept their TARP money separate and could point to new loans that had been issued due to government help.
"Some banks described some lending programs that couldn't be done without TARP funding," Barofsky said.
To better understand where taxpayer money is going, and if it is being used for lending, Barofsky said Treasury must account for its investments.
"I believe this makes an even stronger case for a recommendation we made back in December and which up until now has not been adopted -- Treasury should require TARP recipients to monitor their use of funds and be required to provided certified reports to Treasury on how they are using taxpayer money," Barofsky said.
Program difficult to assess
Treasury's $700 billion Troubled Asset Relief Program has become quite complex in recent months. It has been used for a variety of purposes, including the allocation of billions of dollars in funding for separate bailout efforts by the Federal Reserve and Federal Deposit Insurance Corp. The funding has been committed to a number of different projects, from bailing out automakers to modifying home mortgages, as well as helping banks.
Both Barofsky and Gene Dodaro, acting comptroller general of the U.S. Government Accountability Office, pointed out that TARP funds that flow through the Federal Reserve are problematic, because the Fed is outside their oversight.
"That is not satisfactory," Dodaro said.
The increasing complexity of the program has also made it difficult to account for how much has been spent on the various bailout programs. Treasury officials confirmed that Barofsky's estimate of $109.5 billion remaining in the fund for existing or new programs is correct, but an actual accounting of how the funds have been spent has not yet been made available, despite requests from the oversight panels.
Treasury did not offer comment on the oversight panels' testimony.
Lack of accountability
Sen. Chuck Grassley, R-Iowa, suggested that next time the oversight panels ask Treasury for TARP information, they should do so in front of U.S. senators.
"Because, the same people who are telling you no, say they're going to answer our questions," said Grassley, his voice raised in anger. "And they don't do it."
Sen. Debbie Stabenow, D-Mich., said she was frustrated that Treasury and the Obama administration weren't holding Wall Street to the same oversight standards that they were demanding of the auto industry.
"There are two models being used here in terms of accountability on one side and total lack of accountability on the other side," Stabenow said.
With the recent furor over bonuses to AIG senior employees, many wondered if Congress would have the appetite to shovel any more money into TARP.
Yet, in recent weeks, its demands have only grown. Treasury Secretary Tim Geithner said he won't need to ask for any more money, even though the administration has added new projects that would draw from the fund, including more money for automakers and a new plan to wipe out toxic assets.
Last month, Warren told a Senate panel that Treasury had overpaid by $78 billion for bank stocks and warrants it took in firms participating in TARP. She said that the group's valuation study on the $254 billion in TARP transactions in 2008 found that Treasury only received assets worth about $176 billion.

Features

These Fortune 100 employers have at least 350 openings each. What are they looking for in a new hire? More

It would be the world's second-biggest economy. See how big companies' sales stack up against GDP over the past decade. More