Jump-starting an American car town
Kokomo, Ind., faces a daunting task as it struggles to compete in the new economy: Attract new industry and create jobs in this Midwest manufacturing town.
Photos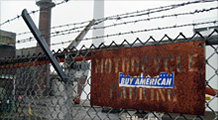 KOKOMO, Ind. (CNNMoney.com) -- Reviving an American car town has got to be one of the toughest jobs in the country. It may also be one of the most important.
In Kokomo, Ind., ground zero for auto industry layoffs, this job falls on Jeb Conrad.
Conrad is head of the Greater Kokomo Economic Development Alliance, an organization funded jointly by government and local businesses to promote investments in this region about an hour's drive north of Indianapolis.
On the southern edge of the Rust Belt, this town of 45,000 people is heavily reliant on the auto industry. There are four big Chrysler plants in town. Delphi, General Motors' former electronics arm that was spun off in 1999, also has a major operation in Kokomo. All told, nearly a quarter of the city's workforce is employed in the auto sector.
With many towns in the Midwest already facing 20% unemployment and a Big Three bankruptcy expected any day, everyone's afraid of what the nation's manufacturing heartland will become if a major automaker goes bust.
To turn this town around, Conrad and other town officials are working to attract technology and renewable energy businesses that they consider the industries of tomorrow.
He arrived just four months ago after leaving a similar job down in Indianapolis, and if he was looking for a challenge, he certainly found it in Kokomo.
Is Conrad nervous? "A little," he says with a smile and a quick glance at the floor during an interview along with the town's mayor and its economic development officer. "But at the end of the day, our job is to attract new jobs and investments in this community."
With Delphi in bankruptcy and Chrysler on the edge, the situation is dire.
"It's a scary place to be right now," said Cliff Pitcher, a long-time electrician at a local Chrysler transmission plant. "If Chrysler goes down, this whole town goes down."
That's the scenario Conrad and other officials are racing to prevent.
Accentuate the positive
To do that, they point to the town's strengths: First is the skilled workforce. Kokomo bills itself as the home of America's first car, and has a manufacturing history spanning more than 100 years. Kokomo has produced everything from transmissions for the auto industry to steel and high tech alloys used in space exploration.
This means the town is full of people who can not only weld and wire but also design high tech engineering components.
Second is the location. Although not on a major interstate, Kokomo sits between two major east-west expressways. It's within a day's drive of two thirds of the entire U.S. and Canadian population. And town officials are trying to connect it more with the Indianapolis economy, which seems to be doing well with its mix of tech, bio-tech, pharmaceutical and insurance businesses.
Third is the relatively low cost of doing business. While the average union wage in town is somewhere around $60,000 a year, the per capita income is around $20,000 and the average house costs just $75,000. That means companies can get a skilled workforce for a relative bargain.
Now Conrad has to sell these strengths. To do so he relies on leads from his own contacts, local business owners and state and regional officials.
When he hears of a potential new business, he'll fire off an e-mail touting the region's strengths, hoping for a face-to-face meeting.
He also scans the newspapers for companies that have had management shake-ups or rapid growth, believing they make good prospects to bring to Kokomo.
Building a new economic foundation
Industries ripe for expansion include renewable energy and tech, he said.
In renewable energy, Conrad is hoping the town can leverage Kokomo's auto assets for electric vehicles. Delphi is first and foremost an electronics firm with some hybrid technology experience. And the Chrysler plants make transmissions, essential in both gas powered and hybrid cars. The plants could also be retooled to make parts for electric vehicles.
Then there's wind. Kokomo lies just to the east of the nation's "wind belt," the vast expanse of land running from roughly Texas to the Dakotas an area ripe for wind farms.
Conrad said big wind developer Horizon Wind Energy is planning a massive $250 million wind farm in the county just north of Kokomo, and that investment there may eventually grow to over $1 billion. He hopes to use its proximity to the wind belt and Kokomo's manufacturing know-how to attract companies that build the towers, blades and fins for the giant wind turbines.
The town has already had some success with the tech industry. There's currently a small tech park here with tenants such as semiconductor firms International Rectifier and Freescale.
Conrad helped set up a business incubator here as well. Using an old office building donated by Delphi, the incubator provides start-up tech firms with reduced-rent office space and access to city officials who can provide tax incentives and other grants to nurture new businesses.
Current tenants include a robotics firm specializing in manufacturing technology, a company making software to better automate traffic signals, and a firm peddling Web 2.0 applications such as social networking and instant messenger services for internal company use.
"I love what they're doing here," said Marshall Winslow, an employee at the firm working on the Web 2.0 technology. "We're so dependent on the auto industry, this is what Kokomo needs."
Future far from certain
Whether these moves succeed depends on how fast and by how much the auto sector shrinks. A gradual scale back might buy the town enough time to build up its other industries, but if Chrysler closes its doors next month, that might spell disaster.
Among the town's youth, some are optimistic.
"There's probably going to be some adjustments, but they're looking at a lot of things" said Grayson Bolinger, a senior at the local branch of Indiana University. "They're putting a lot of lines in the water."
Others remain deeply skeptical.
"I already know a lot of people who are moving," said freshman Aaron Connolly. "It's pretty much going to be a ghost town."
As for Conrad, he may not have time on his side, but he says he does have skill and persistence.
"We have the ability, we have the contacts to continue making something in this community," he said. "All I can do is keep setting the table and hope somebody sits down to eat."

Features

These Fortune 100 employers have at least 350 openings each. What are they looking for in a new hire? More

It would be the world's second-biggest economy. See how big companies' sales stack up against GDP over the past decade. More