HP cuts outlook and jobs - PC sales slump
Tech giant reports quarterly earnings that beat estimates; company reins in full-year revenue outlook, says will cut 2% of workforce.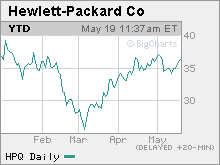 NEW YORK (CNNMoney.com) -- Hewlett-Packard Co. cut its full-year sales outlook and announced another round of job cuts Tuesday as it reported that weak PC sales contributed to a 17% drop in quarterly profit.
But the company also said it was starting to see some improvement in consumer sentiment.
"We see some encouraging signs, and we saw some slight improvements with the U.S. consumer. I'm just not ready to call it better," said Chief Executive Mark Hurd on a conference call with analysts.
HP has benefited from its belt-tightening efforts but Hurd said that "the vast majority of cost savings are ahead of us."
In that vain, the company's finance chief, Cathie Lesjak, announced on the conference call that the company would eliminate 6,400 jobs, or 2% of its total workforce of 321,000. That comes on top of more than 24,000 jobs being cut as part of the integration of tech services firm EDS, which HP acquired for $14 billion last May.
Meanwhile, slumping sales continue to cut into HP's revenue, with sales of desktops, notebooks and printers falling by double-digits in the company's second quarter ended April 30. Total net revenue fell 3% to $27.4 billion, meeting Wall Street's forecasts.
HP (HPQ, Fortune 500) said it now expects full-year revenue to fall between 4% and 5%, worse than its previous range of 2% to 5%. That sent its stock down almost 5% in after-hours trading.
Hurd said he believes economic pressures will continue throughout the rest of the year. He said PC sales will be flat to slightly higher for the remainder of 2008 and maintained it's too soon to call a bottom in the computer market.
Still, some analysts believe that HP may be too modest in its outlook.
"HP tends to be conservative with its guidance," said Dave Cearley, an analyst at tech consultancy firm Gartner. "There are signs that things are starting to bottom out, and companies are starting to loosen some of their purse strings. IT spending is opening up."
Profit beats Street: The Palo Alto, Calif.-based company reported second-quarter net income of $1.7 billion, or 70 cents per share. Results included a charge of 16 cents per share related to its purchase EDS. They also included a 2 cents per share charge related to a patent dispute.
Without the charges, HP earned 88 cents per share. That beat the 86 cents per share forecast of analysts polled by Thomson Reuters, who typically exclude one-time items from their estimates.
The company said it expects a profit of 88 cents to 90 cents a share in the current quarter, in line with analysts' expectations.
Weak PC, printer sales. HP, the world's largest personal computer maker, reported desktop and laptop sales slumped 13% and 24%, respectively, during the second quarter. Still, shipments were flat, which comes as little surprise: During the first three months of 2009, HP's PC shipments rose 3%, although industry sales slipped 7%, according to tech analysis firm IDC.
PC sales, of which HP maintains a 21% market share, account for more than a third of the company's revenue.
HP makes about a quarter of its revenue from its imaging division, which sells printers and printer toner and cartridges. Consumer printer sales were down 31%. HP raised toner prices in the past quarter, so printer supplies sales were slightly better than printer sales, falling 14 % in the quarter.
The company's solutions division also endured mixed results. HP's server business took a 28% tumble in sales as businesses migrated to cheaper solutions like off-site cloud computing. But HP also offers many of those less expensive solutions as part of its services business, which got a 99% sales boost last quarter to $8.5 billion.
HP's services unit was the company's most profitable division in the past quarter. Some see the company's shift towards business products and services as a welcome change that will position HP for greater success in the future.
"I like HP's product mix now better than a year or two ago," said Cearley. "The company was very heavily weighted on consumer devices, but it has changed to a company that is a balance between services, software and hardware."
Cost-cutting boost. HP's cost-cutting measures, including a 5% company-wide salary cut implemented early in its second quarter, helped it navigate throughout the economic storm and offset some of the declines the company suffered in the quarter.
HP is also trimming costs by its ongoing efforts to eliminate overlap with EDS. The company announced in September that it would slash 24,600 jobs, or 8% of its combined workforce, by the end of 2011 as a result of the acquisition. To-date, half of those jobs have been eliminated, Hurd said Tuesday.
"Our services business continued to deliver strong profitability with an increased deal pipeline and the EDS integration tracking ahead of schedule," said Hurd.
HP is often compared to rival IBM (IBM, Fortune 500) because both are large players in a number of different tech businesses. Shares of HP have been flat since January, compared with IBM's 25% rise and Dell's (DELL, Fortune 500) 11% jump. But HP's stock is up 41% since the stock market bottomed out on March 9, even with Dell's 41% jump and better than IBM's 26% rise.

Features

These Fortune 100 employers have at least 350 openings each. What are they looking for in a new hire? More

It would be the world's second-biggest economy. See how big companies' sales stack up against GDP over the past decade. More