Dollar falls to 5-month low on euro
Pound also hits 5-month high against greenback, as investors seek higher risk.
Photos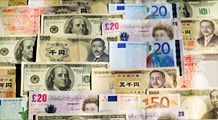 NEW YORK (Reuters) -- The dollar hit its lowest level in nearly five months against the euro and a basket of major currencies on Wednesday, continuing its slide as investors stuck to the view that the worst of the global financial crisis had passed.
That reduced safe-haven demand for the dollar and bolstered assets perceived to have higher risk, such as stocks, emerging market currencies, and commodity-based units such as the Australian and New Zealand dollars.
"Overall, this is still a green-shoots rally. It's evident in crude oil above $60, it's evident in stocks, and it's to some extent being driven by animal spirits," said Michael Woolfolk, senior currency strategist, at Bank of New York Mellon in New York.
He added that money was flowing out of dollar-denominated deposits and going back into higher-risk assets.
"After a drought in terms of stock market performance and hedge fund performance this last year, I think investors can't afford to sit on the sidelines even if this does turn out to be an unsustainable rally."
Market participants said comments from U.S. Treasury Secretary Timothy Geithner saying the financial system was "starting to heal" after a period of severe trauma helped the euro extend its gains as did remarks from Portugal's finance minister.
In an interview with Reuters, Portuguese Finance Minister Fernando Teixeira dos Santos said a stronger euro, which has gained more than 3% against the dollar in the past month, had not been a concern among European finance ministers.
In midday New York trading, the euro surged 1.2% to $1.3784, having climbed as high as $1.3795, according to electronic trading platform EBS. Technical analysts say markets are now focused on a move to $1.40.
The single euro zone currency was up 0.4% at 131.30 yen.
Dollar losing luster
Gains in the euro pushed the ICE Futures' dollar index, which tracks the dollar's movements against six major currencies, to as low as 81.157, its lowest since early January. The dollar index has lost nearly 7% since it hit a roughly one-month high last month.
The euro makes up the biggest share of the index, and as a result, can be a driver of index moves.
"Unless Tim Geithner reiterates the strong dollar being in U.S. interest, which could work temporarily, or equities come under severe pressure, the turnaround for the greenback is unlikely to emerge, to the benefit of commodities and equities," said Ashraf Laidi, chief market strategist, at CMC Markets in London.
The dollar was also down versus the yen, falling 0.8% to 95.28 yen .
Against the Swiss franc, the dollar dropped to a 4-1/2 month low at 1.0970 francs. The dollar last traded at 1.0992 francs.
Sterling was also up sharply, rising to a $1.5680, a five-month peak. It was last at $1.5674, up more than 1% on the day.
Minutes from the Bank of England's May policy-setting meeting showed policymakers voted unanimously to keep interest rates at a record low of 0.5% and extend its quantitative easing program by 50 billion pounds, although they discussed a bigger increase.
Traders are now focusing their attention on the minutes from the Federal Reserve's policy-setting meeting on April 28-29, due later in the day.

Track 17 major currencies
Features

These Fortune 100 employers have at least 350 openings each. What are they looking for in a new hire? More

It would be the world's second-biggest economy. See how big companies' sales stack up against GDP over the past decade. More