Florida bank collapses - firms swoop in
$13 billion BankUnited closed in biggest failure of year. Florida thrift bought by Wilbur Ross, Carlyle Investment, Blackstone Capital and other private firms.
Map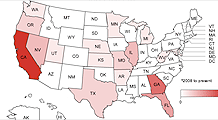 DID YOUR BANK FAIL?
For more information visit www.fdic.gov
Don't panic – your savings are insured
Keep paying your loans – the terms remain the same.
The FDIC will notify you by mail about your accounts/loans.
Contact the FDIC with any questions until further notice
If your bank is purchased, you will be contacted by your new bank.
NEW YORK (CNNMoney.com) -- A consortium of private equity firms has acquired BankUnited FSB in Florida after the savings and loan was shut down by federal regulators Thursday.
The 34th bank to fail this year and the largest so far, BankUnited (BKUNA) had $12.8 billion in assets, $8.6 billion in deposits and 85 branches. The new institution will be named BankUnited.
Similar to a deal it did with IndyMac, the California mortgage bank that failed last July, the Federal Deposit Insurance Corp. will share in losses on about $10.7 billion in assets. The bank's new owners will inject $900 million in new capital into the Coral Gables, Fla.-based institution.
The FDIC estimates it will take a $4.9 billion hit to its deposit insurance fund.
Investors include WL Ross & Co., Carlyle Investment Management, Blackstone Capital Partners, Centerbridge Capital Partners, LeFrak Organization, The Wellcome Trust, Greenaap Investments and East Rock Endowment Fund.
The new BankUnited will be run by industry veteran John Kanas, who built North Fork Bank in New York City's Long Island suburbs into a regional powerhouse. Kanas ran Capital One's banking operation after it acquired North Fork in 2006. He left Capital One (COF, Fortune 500) the next year.
The deal is the second involving private investors and a failed bank, and comes five months after a consortium acquired IndyMac. Private equity firms have become increasingly interested in acquiring banks, though their participation in such deals had long been limited. Last year, as failures mounted, regulators relaxed the rules about who can buy a bank.
In early January, a group of private investment firms, including buyout shop J.C. Flowers & Co. and hedge fund Paulson & Co., struck a deal with the Federal Deposit Insurance Corp. to buy failed mortgage lender IndyMac for $13.9 billion. The bank is now controlled by IMB Management Holdings, led by Steven Mnuchin, who is chair and co-chief executive of Dune Capital Management.
The IndyMac deal is thought to be the first where private investors led the buyout of a failed bank.
In the IndyMac purchase, the buyers took responsibility for the first 20% of losses, and the FDIC covered the majority of additional losses. IndyMac's failure is expected to cost the agency $10.7 billion.
The BankUnited acquisition fulfills a pledge by billionaire investor Wilbur Ross, known for his investments in distressed companies in the steel, automotive industries. The head of WL Ross & Co. said in January that it was only a matter of time before his firm bought a bank.
Investors have for weeks been circling BankUnited, which was toppled by its mortgage portfolio.
"Ultimately, the combination of an excessive concentration in payment option ARM loans with too many risk layers and rapidly deteriorating economic conditions overwhelmed BankUnited's capacity to absorb the losses on the portfolio," according to the Office of Thrift Supervision, which regulated the institution.
In mid-April, the regulator told the bank it must hook up with another institution or sell itself to correct its severe capital deficiency. Three groups offered bids, which were due at 5 p.m. Thursday.

Features

These Fortune 100 employers have at least 350 openings each. What are they looking for in a new hire? More

It would be the world's second-biggest economy. See how big companies' sales stack up against GDP over the past decade. More