Gas price surge may stall recovery
Gas prices jump 20% in 32 days, nearing $2.50 a gallon and putting more pressure on the already battered economy.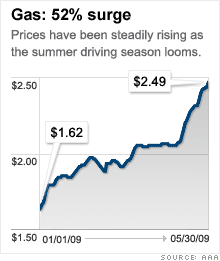 Fuel-Efficient Cars

Find Your Next Car
Map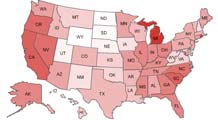 NEW YORK (CNNMoney.com) -- The rising price of gasoline is putting pressure on cash-strapped motorists and throwing barricades into the path of a speedy economic recovery.
The national average price for a gallon of regular unleaded gas edged up to $2.488 on Saturday, from $2.467 the day before, according to motorist group AAA.
That marks the 32nd consecutive increase. In that one-month period, the average price of gas jumped more than 20%.
That surge is causing concern for drivers as the summer driving season gets underway.
Americans are already dealing with high unemployment and a collapsing housing market. If gas prices continue to climb at their heady rates, Americans who are living "paycheck to paycheck" could put the brakes on their plans to tool around this summer, crimping some of the government's efforts to pull the economy out of recession, said Tom Kloza, chief oil analyst for the Oil Price Information Service.
"There's way too much optimism about a driving season lift," said Kloza, who believes that higher prices, in conjunction with the recession, will dampen the typical summer travel surge.
Kloza said the impact will be especially painful in economic "sore spots" like California, Florida, Arizona and the rural South.
Gas is particularly expensive in California, where the average price is $2.725 a gallon. In Arizona, the average price is less expensive, at $2.341 a gallon.
Currently, the highest gas prices are in Alaska, where prices average $2.752 per gallon. The cheapest gas can be found in South Carolina, where the average is $2.299 a gallon.
Despite the recent surge, the average price of a gallon of gas remains 40% below its all-time peak of $4.114 on July 17, 2008. But the repercussions of that peak are still being felt.
Kloza said that drivers are more likely to focus on the recent increases, than to feel relieved that gas prices are off their 2008 peak.

"People are crazy when it comes to the price of gasoline," he said. "Nothing has quite the emotional component than gas prices do."
Last year's gas price spike also severely hampered demand for SUVs and trucks, hastening the downward spiral for the Big Three automakers.
Chrysler filed for bankruptcy on April 30 and is awaiting a ruling from a federal judge as to whether it may sell its assets and form a new company. General Motors (GM, Fortune 500) is expected to file for bankruptcy next week and its stock price is trading below $1 a share for the first time since the Great Depression.

Features

These Fortune 100 employers have at least 350 openings each. What are they looking for in a new hire? More

It would be the world's second-biggest economy. See how big companies' sales stack up against GDP over the past decade. More