Regional bank in Illinois fails
Bank of Lincolnwood becomes the 37th bank to be closed by regulators this year.
DID YOUR BANK FAIL?
For more information visit www.fdic.gov
Don't panic – your savings are insured
Keep paying your loans – the terms remain the same.
The FDIC will notify you by mail about your accounts/loans.
Contact the FDIC with any questions until further notice
If your bank is purchased, you will be contacted by your new bank.
Bailout tracker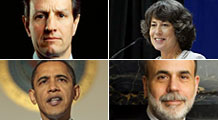 The government is engaged in a far-reaching - and expensive - effort to rescue the economy. Here's how you can keep tabs on the bailouts.
More
NEW YORK (CNNMoney.com) -- Bank of Lincolnwood was shuttered by Illinois regulators Friday, bringing the number of failed banks this year to 37 and costing the Federal Federal Deposit Insurance Corp.'s deposit insurance fund $83 million.
The two offices of Lincolnwood, Ill.-based bank will reopen Saturday as branches of Republic Bank of Chicago. Bank of Lincolnwood customers will retain their deposit insurance coverage, the FDIC said.
As of late last month, Bank of Lincolnwood had total assets of about $214 million and total deposits of $202 million. Republic Bank agreed to purchase about $162 million in assets, leaving $52 million for the FDIC to sell.
"We want our new customers to understand that their insured and uninsured deposits are safe and covered," said William Sperling, president and chief executive of Republic Bank, in a statement.
Republic Bank also said it expects the two banks to be integrated by the end of October and that it will preserve jobs despite a difficult economic environment.
The number of bank failures in 2009 has already exceeded last year's total of 25, with an average of 7 failures per month. Bank of Lincolnwood was the sixth Illinois bank to be closed this year.
This year's failures have cost the FDIC a total of $11.4 billion, compared with $17.6 billion in 2008.
Over the next 5 years, the FDIC expects roughly $70 billion in losses due to the failures of insured institutions.
The FDIC, which is funded primarily by fees paid by banks, insures individual deposits up to $250,000. The amount was increased from $100,000 late last year in response to concerns about the stability of the nation's banks.
Separately, the FDIC confirmed to CNNMoney.com Friday that it was unable to find a buyer for the assets of wholesale banking operator Silverton Bank, which went under May 1. It was the fifth largest bank failure during the current recession in terms of assets, and cost the FDIC $1.3 billion.

Features

These Fortune 100 employers have at least 350 openings each. What are they looking for in a new hire? More

It would be the world's second-biggest economy. See how big companies' sales stack up against GDP over the past decade. More