Michigan shuts 8 prisons to save $120M
Struggling state looks to stem budget bleeding by closing 3 prisons and 5 prison camps. Michigan is facing a $1.4 billion budget deficit for fiscal 2010.
Map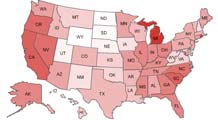 NEW YORK (CNNMoney.com) -- Michigan officials said Friday that the state is closing three prisons and five prison camps in hopes of narrowing a $1.4 billion budget gap for fiscal 2010.
The state, which has been hammered by the auto industry meltdown, estimates that it will save $120 million by shuttering the eight facilities. None of the 4,149 prisoners in the facilities will be released early, but up to 1,000 workers may lose their jobs.
Michigan is not alone in turning to its prison system for savings. Some 25 states cut spending on corrections in fiscal 2009 and another 25 are proposing to do so in fiscal 2010, as they struggle to address massive budget shortfalls.
"It's a trend we'll be seeing more and more of in coming months given the dire revenue situation states are in," said Sujit CanagaRetna, senior fiscal analyst at the Council of State Governments, a research group.
The Wolverine State is targeting the correctional system because it takes up 22% of the state's general fund budget, the largest component. (Education is funded separately.) The state must close the $1.4 billion gap before its fiscal year ends on Sept. 30.
In part because of a 5-year-old initiative to reduce recidivism, Michigan has seen its prison population decline to 47,552, down 7.3% from January 2007. It already closed two prisons and a camp earlier this fiscal year for a savings of $30 million, Cordell said. The latest downsizing eliminates 6,400 beds from the system.
"Rightsizing our prison system is the responsible thing to do," said John Cordell, a spokesman for the Michigan Department of Corrections.
The facilities being closed are Camp Cusino in Shingleton, Camp Kitwen in Painesdale, Camp Lehman in Grayling, Camp Ottawa in Iron River and Camp White Lake in White Lake.
Camps are the lowest security facilities in the system and house the lowest-risk prisoners who are within two years of release. Camp detainees, who do public works projects for the state or local communities, will be transferred to other locations. These are the last remaining camps in the system, signaling an end to the program that has existed for more than 50 years.
The three prisons that are closing are Muskegon Correctional Facility, a medium security institution in Muskegon, Hiawatha Correctional Facility, a minimum security location in Kincheloe, and Standish Maximum Correctional Facility in Standish.
Instead, the state will put $60 million toward increased supervision of some paroled prisoners. The savings include that figure.
Dire straits
Friday's announcement was the latest in a string of spending cuts in Michigan.
With tax revenues coming in below estimates, Gov. Jennifer Granholm last month was forced to slash spending by $350 million, including a 4% across-the-board reduction. The move comes after the governor cut $134 million from the budget in December.
"Michigan government can no longer afford to be all things to all people," Granholm said in a May 5 statement. "We expect to have to make more cuts like these in the future, which are the very type of wrenching cuts we have worked so hard to avoid in the past."
The cuts made in May mean adults on Medicaid are losing dental and vision coverage. New state trooper graduates are losing their jobs, and local communities are losing 1/3 of their remaining state revenue-sharing funds.
Like other states, Michigan is seeing its tax revenues dry up. Personal income taxes are down 22.6%, while sales taxes fell 7.6%.

Features

These Fortune 100 employers have at least 350 openings each. What are they looking for in a new hire? More

It would be the world's second-biggest economy. See how big companies' sales stack up against GDP over the past decade. More