House OKs $4 billion 'clunker' bill
Full House votes on a bill to subsidize new car sales for consumers who turn in gas guzzlers. Status of proposal in Senate is unclear.
Bailout tracker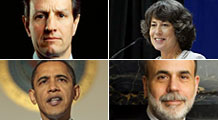 The government is engaged in a far-reaching - and expensive - effort to rescue the economy. Here's how you can keep tabs on the bailouts.
More
WASHINGTON (CNNMoney.com) -- The House on Tuesday waded deeper into the rescue of the troubled auto industry when it passed a $4 billion plan to subsidize new cars sales for consumers who scrap old ones.
By a vote of 298-119, the House approved the "cash for clunkers" program.
The measure would give consumers vouchers worth as much as $4,500 to turn in gas guzzlers and buy new cars that are more fuel efficient.
The legislation now goes to the Senate. President Obama has said he supports such a measure.
The House bill would go into effect within 30 days of enactment but it is not retroactive for new purchases made earlier this year.
The move by the House would deepen the federal government's involvement in the auto industry, only a week after federal officials announced spending another $30 billion in addition to the $19.4 billion already given to GM to cover its losses and operations.
"The bipartisan cars act will shore up millions of jobs and stimulate local economies. It will improve our environment and reduce our dependence on foreign oil," said bill sponsor Rep. Betty Sutton, D-Ohio, during floor debate. "The cars act demonstrates that we can free ourselves from the false argument of either you are for the environment or you are for jobs. You can do both, you must do both."
While the original cash-for-clunkers proposal had its roots in an environmental initiative, this bill aims to jump-start sales of new cars and trucks, including some that don't quite meet the average fuel efficiency standards.
Clunkers eligible for the program must get 18 miles per gallon, or less, in combined city and highway driving. The subsidy ends up benefiting more owners of light trucks, SUVs and mini-vans more than it would owners of regular old passenger cars, auto experts say.
A $3,500 subsidy can be used toward purchasing cars and vans that are more fuel efficient than the older clunkers by four miles per gallon. A $4,500 subsidy can be used toward purchasing cars and vans that are more fuel efficient than older cars by 10 miles per gallon.
However, cars that have not been insured for the past year or those that are older than 25 years are not eligible to be traded in for vouchers.
The House measure aims to spend $4 billion in new dollars toward the measure, and was expected to get added through a war supplemental funding bill. That could prove to be a sticking point, since some Republicans in the Senate said they rather such a measure use already allocated dollars.
"We're going to have to pay the piper at some time," said Rep. Jeff Flake, R-Ariz. "This is a clunker of a bill."
The program lasts either one year or until the funding runs out.
So now the focus turns to the Senate, where two versions of a subsidy bill have been introduced. Neither has yet to be voted on or fully debated.
The Senate proposal that is most similar to the House bill is sponsored by Sen. Debbie Stabenow, D-Mich., along with Sen. Sam Brownback, R-Kansas. That bill takes its funding from existing stimulus dollars and is retroactive for new purchases made since March 31.
Environmental lobbying groups are pushing for an environmentally tougher bill geared more toward cutting carbon emissions. That measure, sponsored by Sen. Dianne Feinstein, D-Calif., aims to replace more gas guzzlers with more environmentally sensitive and fuel efficient cars.

Features

These Fortune 100 employers have at least 350 openings each. What are they looking for in a new hire? More

It would be the world's second-biggest economy. See how big companies' sales stack up against GDP over the past decade. More